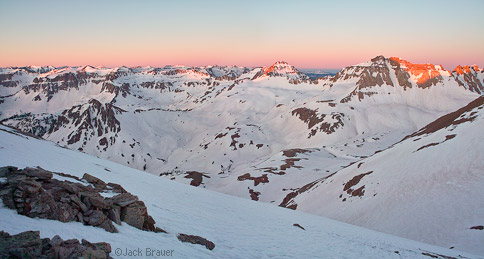 [+] Sunrise alpenglow on the peaks above Yankee Boy Basin, San Juan Mountains, Colorado.
This last Monday I woke up at 2am, drove up to Yankee Boy Basin, and hiked in the dark via headlamp up to the ridgeline of Cirque Mountain, a 13-thousand footer with a nice view of neighboring Mount Sneffels. With a solid overnight freeze, the snowpack was hard as a rock and the hiking was easy with my crampons. Dawn was just starting to break when I got to my destination, so I put on all my layers, put the hand warmers in my gloves, and hunkered down behind a big rock out of the chilly wind while I waited for the sunrise.
Here's a few digital shots of the sunrise. You can see my large format shot here.