I am in the midst of the worst snowboarding season I've experienced in my snowboarding career. With the super sketchy avalanche conditions here in Colorado this winter, I haven't been snowboarding much at all, and I can't help but reminisce about better times on the snow! Below are a few photos of me snowboarding at Engelberg, Switzerland last winter, taken by my friends Kevin and Jonas.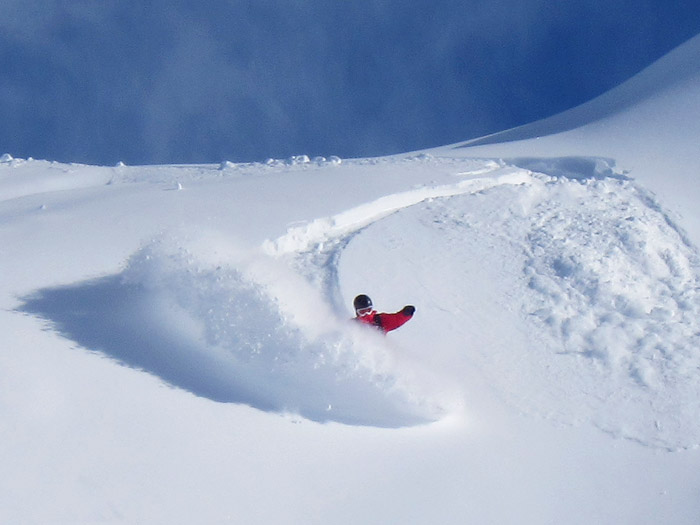 As you may know if you follow this blog, last winter I spent most of the season in Engelberg, Switzerland. It wasn't exactly a big winter there either – at least statistically speaking. The season was characterized by occasional big storms followed by weeks of sun. At the time, I enjoyed exploring all kinds of new terrain in the spectacular Alps, but I was also thinking that, well, it just wasn't that great of a winter. The thing is, when I was in the midst of it, during those weeks-long dry stretches I couldn't help but think that way. I couldn't help but think about how much better it could be, about how much more powder I could potentially have been riding on a more generous snow season.
Funny thing is, from my perspective a year later, looking back on my winter in Switzerland I can only remember it as nothing short of epic! This is a phenomenon I've experienced before, after other big trips. As time passes I forget about all the in-between downtimes, and all the highlights condense into what I can only recall as a fantastic series of experiences! Indeed, when I think about all the powder days and incredible descents I did score in the Alps last winter, it really does stand out in my mind as one of my most memorable winters.
I think it's amazing how our memories do this – how they become refined over time, how the mundane stretches of time condense and settle into insignificance while the high points come together and grow in prominence in our minds. Yet I also wonder why it takes me a year or more to gain the perspective to see just how special those moments were as a whole. It's a great thing to have memories that I can forever cherish and reflect upon, but it's not good to only be able to truly appreciate those experiences through the rear view mirror. So, I think it's important to strive for that perspective in the moment. Of course the highlights will be sweet while they're happening, but it's those in-between downtimes when I need to relax and see the bigger picture, instead of expecting everything to be awesome every single day and being disappointed when it's not.
This last month and a half has been one big "in-between downtime" – not snowboarding much, not photographing much, not really getting outside much at all. But I'm not bothered by it. In fact I'm taking advantage of it. I've actually been having fun working on some big projects that I've had on the back burner for years; I wake up every morning eager to get back to work and get it all finished while I have this chance to focus. So while I know that this snowboarding season will be forgettable, I'm making the best of it in other ways. And in the meantime, I can still savor my memories of powder days past!
I look at this photo now and I recall so many sweet descents all throughout this incredible terrain. At left center where the radio tower is is the top of Titlis – it takes one gondola and two tram rides to ascend the 6,000 vertical feet to the top there. Below that is the Steinberg Glacier. At far left is the Laub, an incredible 3,000 vert slackcountry face. Behind that is Fürenalp, and way back behind there is the Surenen valley. In the center is Jochstock, with its great lines off either side. To the right of that, more great terrain.
You can see all my favorite ski and snowboard photos from my winter in Switzerland here.