On Friday I met my friends to hike and ride the Pearl Couloir on Cathedral Peak, a rugged 13,943 ft. mountain in the Elk Mountains near Aspen, Colorado.

[+] Approaching the Pearl Couloir, which is the curving chute above Ann's head in this photo. Though the weather was cloudy and threatening to storm, and we knew the snow conditions wouldn't be optimal, we decided to head up the couloir anyways.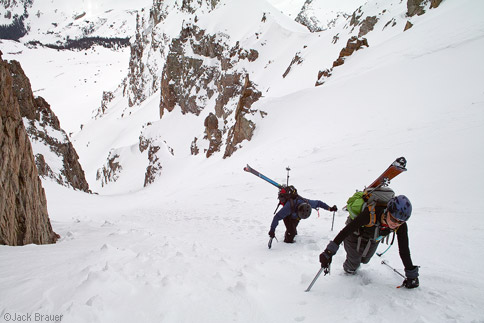 [+] Bootpacking up the steep Pearl Couloir.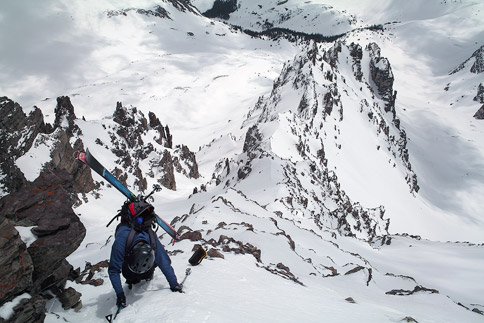 [+] The last section up to the summit ridge was very steep, requiring some nerve-wracking scrambling up rocks and very steep snow.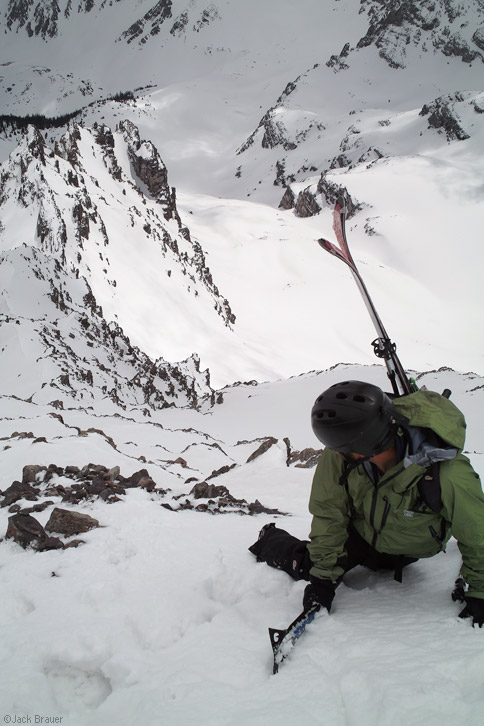 Some hefty exposure up there!

[+] Here's Scott McCurdy with Cathedral Peak's summit ridgeline behind him. As you can see here, the ridgeline was extremely narrow and exposed, with massive dropoffs on either side. We decided that going further would be too risky, and turned back here.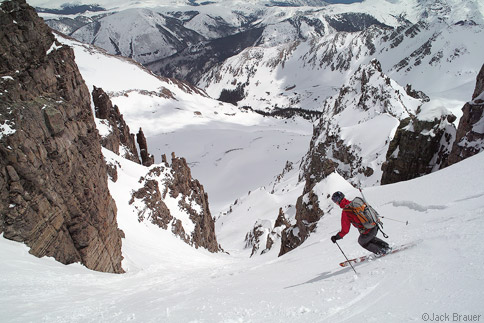 [+] Ann Driggers skis down the Pearl Couloir.
Not too long before dropping in, the sun came out and started cooking the snow, which was already quite warm despite the cloudy weather. The top few inches of wind-blown powder started slabbing off in fairly sizable surface slides, leading to some heart-stopping close calls and an all-around harrowing descent. We were very relieved to get out of the Pearl and off Cathedral in one piece!
All in all, this was probably the crappiest, but most exciting descent of the year so far.