This weekend I met up with Ann Driggers and Seth Anderson, some new ski buddies I met through SummitPost.org, to ski some lines in the La Sal Mountains in Utah. The La Sals rise 8,700 vertical feet above the city of Moab and all the surrounding canyonlands. I was excited not only to check out a new mountain range, but to snowboard down some of these lofty desert peaks that I've gazed up at so many times from the canyonlands far below.
The La Sals were also a good choice for this time of year because the snow there has already settled into a solid springtime snowpack, unlike the snowpack here in the San Juans, which is still transitioning from winter.
DAY ONE: TUKLEAR REACTION
Our first objective was Mount Tukuhnikivatz, or "Tuk" for short. This pyramid-shaped peak is one of the most notable mountains in the La Sals, easily visible for hundreds of miles from the south side of the range.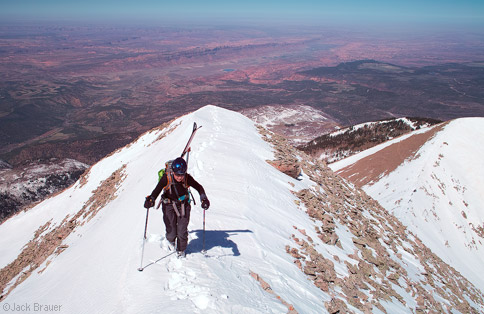 With crampons on our feet and skis/board strapped on our backs, we hiked on the solidly frozen snow pretty much straight up one of the ridgelines for 3200 vertical feet or so to the summit. It felt so strange to peer down at vast red rock canyonlands while we were hiking on snow. The mountain is so much higher than the surrounding deserts that you almost feel like you're looking out from an airplane.