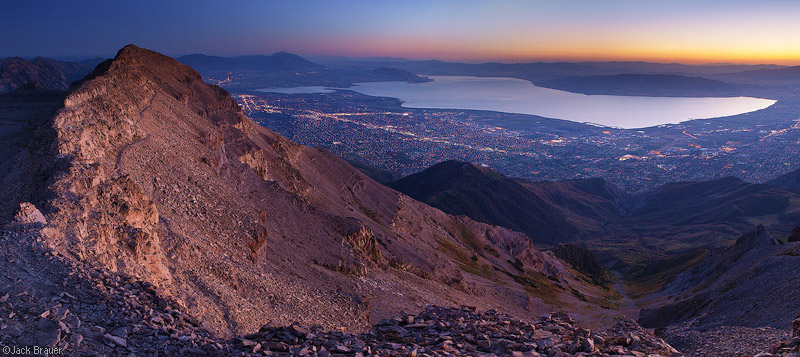 This last weekend I went up to Utah to visit my parents, who are building a house in Midway, and my sister, who was visiting and is about to move back to Berlin. On Saturday night I was supposed to go to a play with them, but my mom was kind enough to let me play hooky to go hike up Mount Timpanogos instead.
Since it was almost a full moon, I decided to go watch the sunset from the summit and hike back down under the moonlight. I've been up the mountain twice before via the Aspen Grove trail (including a glorious snowboard descent), so this time I took a different trail – the Timpooneke Trail. The trail gains ~4,500 feet over ~8 miles, and after a quick three hour hike I reached the summit at 5pm, with a full two hours to relax up there by myself, soaking in the views and taking photos.
Timpanogos may be Utah's most beloved mountain, and indeed on this Saturday I counted over 300 signatures in the summit register – all from that day! It's great to see to see that so many people enjoy this majestic peak that's in their backyard.
See my sunset photos from Timpanogos here.
I look forward to returning soon and photographing Timp under a blanket of winter snow.