On Thursday I headed out backpacking to Ice Lakes Basin, near Silverton, Colorado. This previous week there has been a high pressure system over Colorado, with warm temps and clear skies, so I figured it would be a good time to head up into the high country for a quick overnight trip. The trail up to Ice Lakes Basin generally faces south, and I enjoyed a dry trail most of the way to the lower basin, and even after that the snow was only shin deep at most. With no snowshoes or snow-boots required it was like winter camping but easier! I found a nice little flat spot near the lake and set up my tent.
I knew the post-full moon would be rising an hour and half after sunset, so I hiked around looking for a good vantage point of the basin, set up my camera, and waited in the dark. While I was waiting I was having fun experimenting with my new camera setup – a Canon 5D2 with tilt/shift lenses. This camera has better high ISO performance than any other camera I've used, so it was fun to be able to take photo of the stars and the Milky Way. The moon rose on time, providing some nice lunar alpenglow on the peaks with the stars above. The photo above was a 30 second exposure at f/4 and ISO 2000, with the 24mm t/s lens.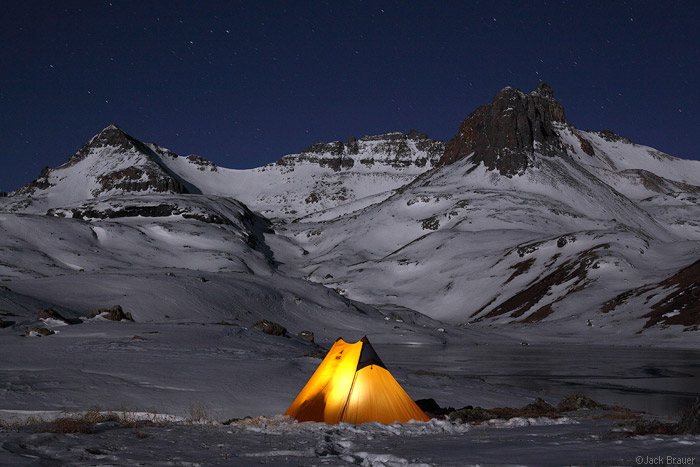 Here's the obligatory illuminated tent shot! Even though I was warm and cozy inside in my -30º sleeping bag, I hardly slept a wink due to the erratic gusty winds all night. The wind must have been coming in pulses, or else it was swirling around like mad in the basin, because it would be calm and quiet, then a blast of wind would pound my tent, over and over again every 30 seconds or so for the whole night. I knew the tent was fine, but still the noise was disconcerting enough to keep up awake most of the night.
This was right before sunrise. I was stoked to see clouds in the sky after a week of bluebird days.
As for the new camera, so far so good! Everything seems to be laid out nicely, and it seems to do what I expect it to do. But most of all, the lenses I got are sweet. I've said it before on this blog, but I am a sucker for good lenses, and the whole reason I decided to get into the Canon system was for their new tilt/shift lenses. Being able to carefully shoot a full-frame dSLR with lens movements makes it feel much more like shooting the 4×5 field camera; I can be ultra precise with the focussing from near to far in the scene. Also, I can easily make two-frame panos by taking two exposures with the lens shifted to either side; then the two exposures can be placed together almost perfectly, with no software stitching required. The first shot above, in fact, was made with two exposures with the lens shifted vertically. Anyhow, I'm sure I'll write more about this camera setup later on when I know it better, but for now I can say I'm happy with it and will probably be using it for a while.