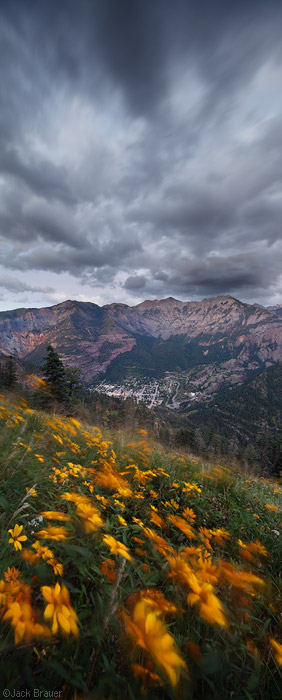 Here's a photo I made this evening on a hike above Ouray, Colorado. I tried to use the gusty wind to my advantage by taking long exposures showing the movement of the wildflowers and clouds.
This photo deserves a bit of explanation on how I created it. It's mainly a stitch of two vertical photos, taken one after the other using a tilt/shift 17mm lens – one with the lens shifted all the way up, and one shifted all the way down. When making panoramas with a tilt/shift lens, the camera does not move at all; only the lens is moving up and down. The beauty of this is that the two photos fit together seamlessly, requiring no stitching software or cropping. Anyhow, since the 17mm is already a really wide angle lens, this double-shot vertical panorama is showing a huge angle of view here, from the little flowers right up close to the lens, to the dark clouds almost overhead.
I also used a little photoshop trickery in the flower portion of the image. I had taken numerous 30-second exposures, and in each one (depending on the wind during the exposure) the flowers ranged from totally blurry, to somewhat sharp with a little bit of blur. The fairly sharp one still had too much blur to use on its own, while the totally blurry one was probably too abstract, just streaks of yellow lacking any context of flowers. So I stacked up three of those flower exposures in photoshop, and turned the upper two layers to "lighten" blend mode, meaning that only the parts of the layers that are brighter show up. The result is this composite of three flower exposures, showing a combination of some sharpness and some blurriness (ok, mostly blurriness). Of course our eyes don't see like this naturally (at least when we're sober), but the effect adds a bit of visual interest to the photo by showing the windblown chaos. What do you think… dig it or ditch it?
And, in an unrelated side note – last night it snowed a little bit on the high peaks around here! Yes, the air is getting cooler and Fall feels like it's right around the corner!