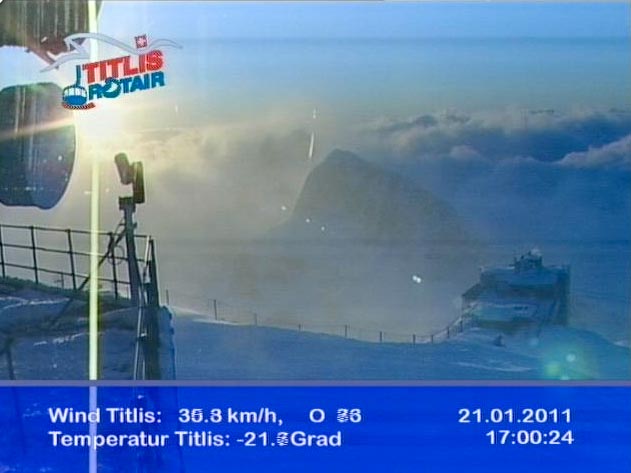 Here are a couple worthy photos from the Titlis webcam, at 3,020m (9,900 ft.) elevation, at the top of the Engelberg ski area. It's been dumping snow the last several days in a highly localized storm which has been socked in from the north but never really made it over the main spine of the Alps. (I noticed that webcams from Zermatt, which is not that far away really, have been showing bluebird skies this whole time). Anyhow, the webcam photo above is from Friday evening, as the storm started to taper off. The clouds had lowered below the peaks at sunset, and oh, how I wish I was there at that moment to take a photo myself!
Another worthy webcam photo. Yes, my camera and I would have enjoyed this as well. All day today there was a cloud-deck at around the 1800m elevation. Snowing below in Engelberg; bright and sunny above on the higher peaks. This is one of my favorite weather phenomena; there's something so amazing about being on a mountainous island in the sky, with an ocean of clouds below.
This cloud "inversion" is actually a very common occurrence in the mountains around Engelberg. And already in the two weeks I've been here, I've experienced this on numerous days, when I've wished I could be up high for sunrise or sunset, but instead am relegated to viewing it later in the day, or via webcam. The challenge is that these mountains are BIG – up to around 6,500 vertical feet above the town of Engelberg. Staying up at the top of the ski area for sunset is not practical at all (which you'd know if you've been here). Getting up early and hiking all the way up one of these mountains for sunrise would be an all-night affair, much of which would be in the cloudy mist- also not practical. The only other obvious option is winter camping. Too bad I didn't bring all my winter camping gear with me to Europe (which would have nearly doubled my luggage size).
I'm wracking my brains trying to figure out a way that I can photograph these inversions at sunrise or sunset. It's especially tormenting knowing that they are so common here, but yet so difficult to attain! But, that's the photographer in me speaking… the snowboarder in me, in the meantime, has been having a blast in all the fresh powder!