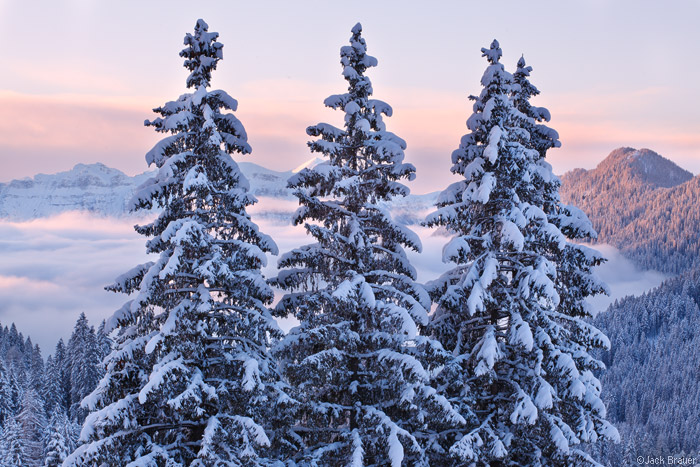 Sunrise view from Daniela's deck, looking towards cloud-covered Mezzano. Not too shabby to see right out of bed!
Another view from the deck, looking at a few of San Martino's yet-to-open ungroomed ski slopes. That would be my destination for the day. Due to the recent dumps and potentially high avy danger I figured a solo ride down the pistes would be a wise decision. Keep it mellow.
With all the recent snow, I skied (with my splitboard) directly from Daniela's apartment building through town, and after several hours of laying in a track through deep powder up however many kilometers of a gradually rising forest road, I made it to the top of the ski pistes I was aiming for. Here's a view of Cima della Madonna, another one of the Pale di San Martino's uber-spires. I've actually hiked up there before in the summer… did a short via ferrata through those cliffs to the saddle to the left of the peak, then climbed up Cima Val di Roda, the peak to the left in the clouds. It's funny to see these places again after so long, and with snow covering them. Seems like a lifetime away in the past!
With a bit of disappointment, I discovered upon arriving at the top that the powder-blanketed pistes had already been groomed by the snowplowers, who shouted at me at the top, "Ah, snowboardista!!!" among other things I couldn't quite understand, except that they were obviously in good spirits and I was too, since I was a bit apprehensive that they would be pissed at me for poaching the slopes. Anyhow, I did have a nice ride down, as the sides of the slopes still had ungroomed fresh tracks still!
With plenty of time still left in the day, I headed up to Passo Rolle and skied up the ski slopes there, and then up a windblown ridge to the small summit of Castrozza, the same spot where I had stood and taken a photo in the summertime 6 years ago. I had hopes of photographing Cimon della Pala, but it was not happening. Nevertheless I waited up there until well after sunset, just in case! It was super cold and windy; all my gear including my camera was caked in rime ice.
This is all that Cimon della Pala would show this evening. What a tease! I did a brail ride down in the fog and darkness, and after a few wrong turns and backtracks I arrived back at the car, nearly frozen through.