After our great descent down Mt. St. Helens on Saturday, we drove over to neighboring volcano Mt. Adams, found a great spot to car camp, and slept in for 12 hours. The next day was mostly spent relaxing and fueling up on food next to the campfire, then at 4pm we set off with minimal camping gear in order to position ourselves better for the big 8,000 vertical foot ascent of Adams the next day.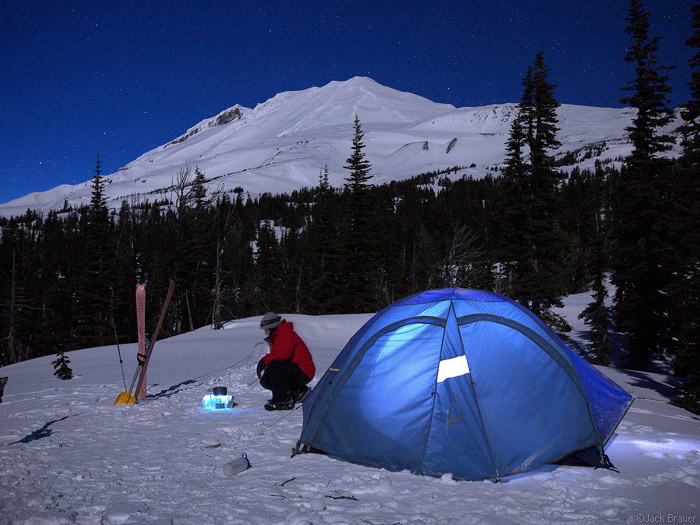 By setting up a basecamp near treeline, we were able to knock off about 5 miles and 2,000 vertical feet from the approach (which was longer than usual due to the unplowed snowpacked road). Here's a shot of Mt. Adams in the moonlight, 6,000 feet higher than the tent.
Though the mountain looks very steep from afar, we were actually able to skin up most of the way up the Suksdorf Ridge on our skis. We started the hike at 5am under perfect bluebird skies, but by the time we got up towards the top, some high clouds started moving in, adding a bit of anxiety and urgency to our hike.
The grueling 6,000 foot hike really started wearing us down towards the top. Due to icier snow up top, we switched to crampons for the final 1,000 feet and slogged up past a couple false summits until we were finally at the summit! The summit towered above all the clouds and we sat up there and enjoyed the panoramic vista, with Mt. Rainier and Mt. Hood off in the distances, both looming above the clouds.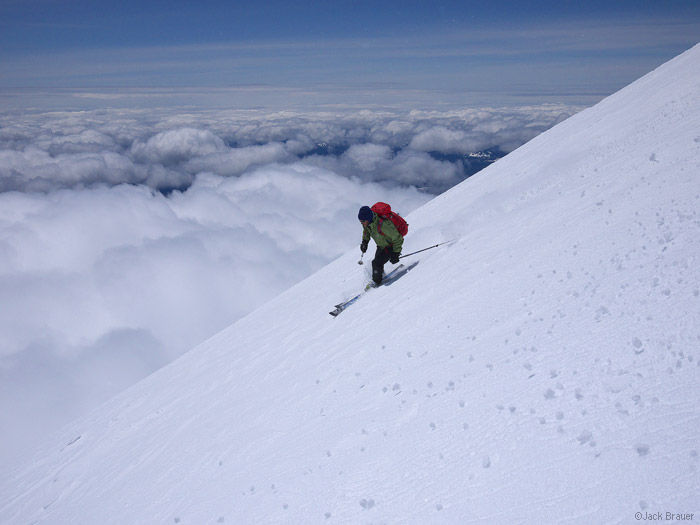 Scott McCurdy skis down Mt. Adams. The hard and bumpy ice-snow below the summit soon gave way to softer, smoother snow, and we were able to carve progressively bigger and smoother turns.