Mt. St. Helens was our first goal on our northwestern volcano tour. After a night of camping in the rain, we started the hike at 5am in the gloomy mist, with little expectations other than perhaps a sopping wet "exercise" day in the fog and rain. After an hour or so of hiking, however, our hopes rose dramatically as the clouds above us started to show signs of clearing.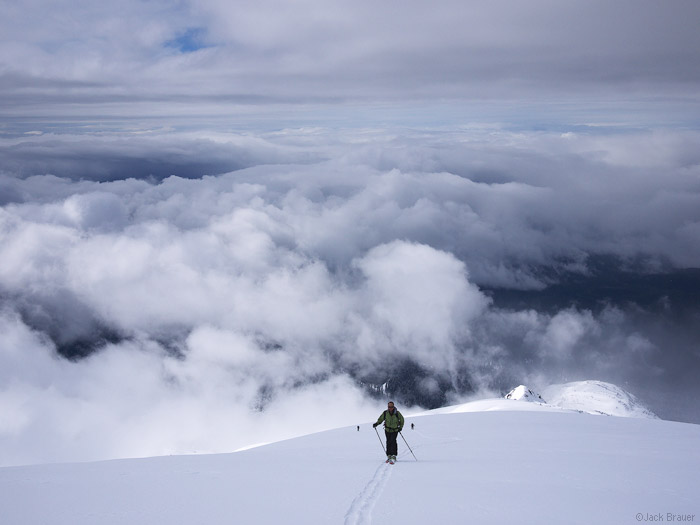 Sure enough, we popped out above the lower cloud deck and enjoyed a spectacular skin up within a cloud sandwich.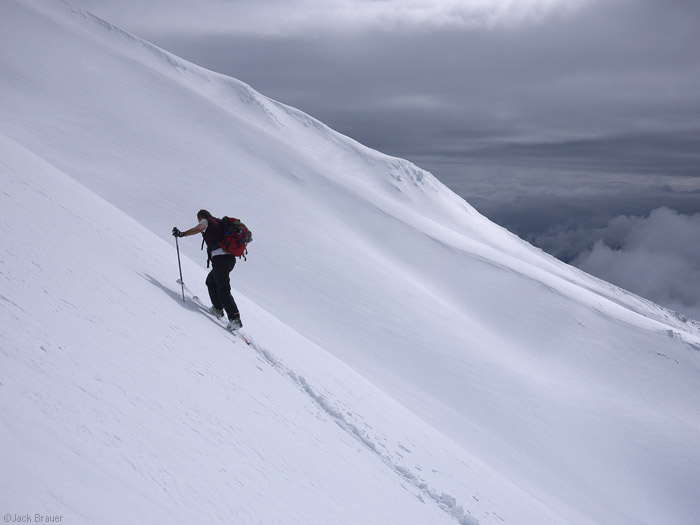 Scott McCurdy skins up a steeper portion toward the top. The 5600 vertical foot ascent was surprisingly easy going, and the summit ridge seemed to arrive quicker than I expected.

[+] Panorama from the summit ridge, looking into the steaming crater, which blew its top almost exactly 30 years prior.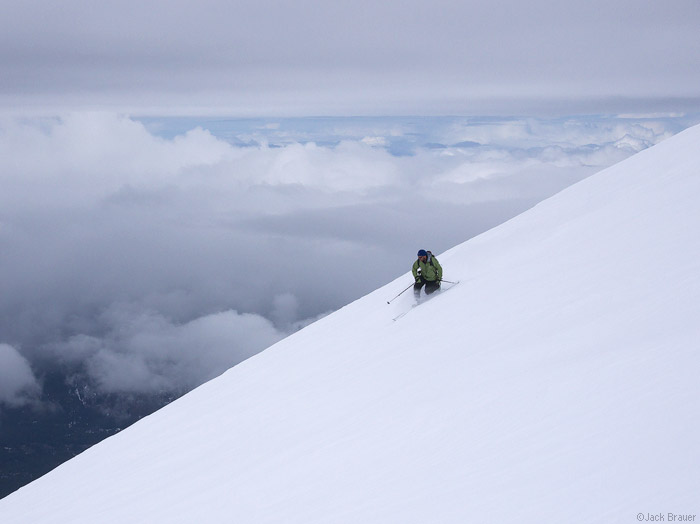 Now the fun part! After relaxing on the summit in the calm weather for a while, we strapped on our skis/snowboard and dropped in, enjoying perfect snow conditions – about 2 inches or so fresh firm powder atop silky smooth spring corn snow. Skier: Scott McCurdy.
The skiable terrain on Helens is vast to say the least. We had untracked lines down a huge face that probably 100 skiers couldn't even track up. The face emptied into a huge gentle gully which snaked down the mountain in one or two big sweeping curves. ~5000 vertical feet of cruisy wide-open terrain, in perfectly smooth and soft spring snow conditions… my dreams of snowboarding aren't even this good!
Completely stoked on our surprise score on St. Helens, we headed to our next (and bigger) volcano: Mt. Adams.