Anybody who does not believe that the North Cascades are the most bad-ass mountains in the lower 48 should take a look at John Scurlock's online gallery of aerial photographs of that rugged mountain range. Flying low circuitous routes in his homebuilt airplane and shooting though a plexiglas canopy, John has amassed an amazing collection of photos of the mountains of the Northwest. In the spirit of Bradford Washburn, John's photos are both documentary and flat out stunning at the same time.
Check out his article "Flight to Desolation", published in the NorthWest Mountaineering Journal (which by the way is great website). Also be sure to browse through John's own online gallery.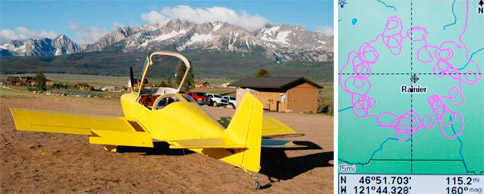 Here's a picture of John Scurlock's homebuilt plane, along with a GPS track of one of his flights. Looks like fun!