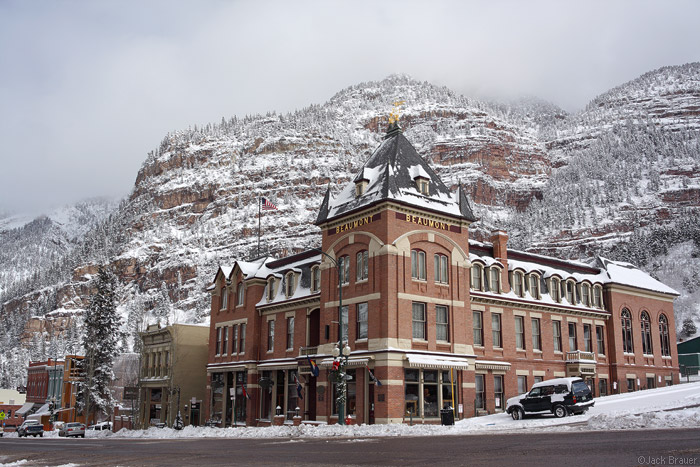 Despite my tenacious cold, I bundled up and walked around the block this morning to take the new Canon 5D2 and some new lenses for a spin. The fresh snow caking Ouray and the surrounding mountains made for a nice test subject!
The photo above was taken with a Contax/Zeiss 35-70mm lens, at 35mm f/8. This is an old, discontinued, manual focus and manual aperature lens, but I had read many glowing reviews about its incredible sharpness. Supposedly this zoom lens is as sharp or sharper than equivalent length prime lenses! So I picked one up on ebay for a reasonable price and this morning was my first trial run with it. I eagerly opened the files on my computer, and was not disappointed! The sharpness almost looks like it came from a Foveon sensor, but at a much larger resolution. In fact I'm so stoked I thought I'd share the fullsize file with all you pixel-peeping camera geeks out there.
>> Click here to see the sample full resolution file (7.6mb). The raw file had a sharpness setting of 3 (of 10), which does snap it up a little bit, but I figured since that's about what I'd do anyways with my files, you might as well see it at that setting. The file was converted from 16bit to 8bit, I tinkered with the levels and color balance in Photoshop, added the watermark, and saved it as a quality 10 jpeg (to save a little bandwidth).
Anyhow, I am way stoked on the sharpness I'm getting from the 5D2, the 17mm and 24mm TS-E lenses, and now this Contax/Zeiss 35-70mm lens. I can't wait to get out into the mountains again for some more real shooting with this setup! I've got to kick this pesky cold first though.