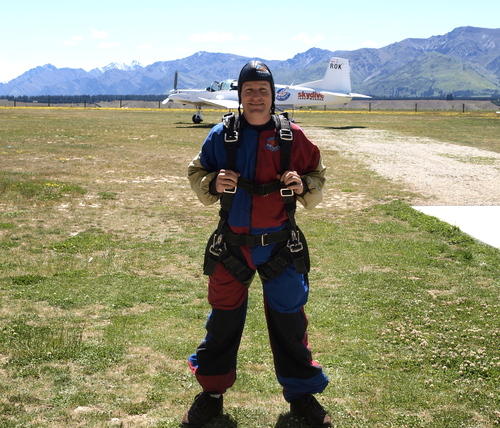 Today I jumped out of a plane!  I've never been skydiving before, so I thought I'd give it a try since I'm in New Zealand, the land of X. Like all skydiving newbies, we did a tandem jump, meaning that I was harnessed to a professional jumper who actually knew what he was doing (or so I would hope).
After donning our skydiving clown suits, we got in the plane and flew spirals up to 15,000 feet, where we then bailed out one pair at a time. When it was my turn, we sat on the edge of the hatch with my feet hanging out the plane and my head tilted up towards the sky. Off we went. Honestly I was not one bit scared until we were actually out of the plane in midair and freefalling… then it sunk in real fast and was definitely terrifying to realize the situation, as I looked at the earth far far below. We did a roll/flip out of the plane and as I fell backwards I could see Lake Wanaka and the snowy peaks of Mount Aspiring National Park and practically all of the Southern Alps – upside down. I will never forget that!
We freefell for 60 seconds and 10,000 feet. What an incredible feeling. After the initial rush, it became more relaxing (relatively speaking) and we did some spins and whatnot, generally just rocketing downwards with my arms out wide, cheeks flapping in the wind, checking out the incredible view. The parachute was deployed at 5,000 feet, and then all became calm and slow. He let me steer for a little while, and I went into some gut wrenching spirals. Anyhow, all too soon we landed softly and it was all over. Good stuff. Ranks right up there on the crazy list with the Olympic luge in Park City.