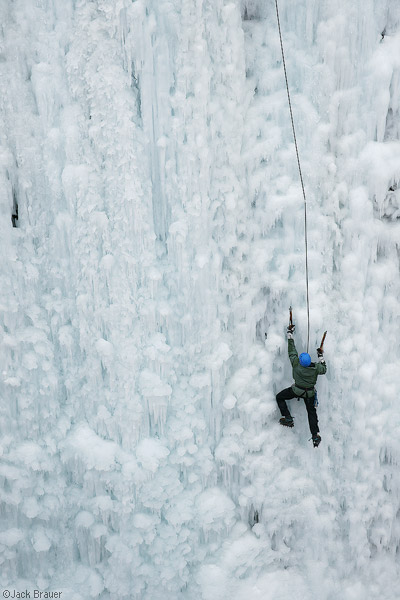 Climbing in the Ouray Ice Park.
Yesterday a sparkling new Sony A900 24mp SLR camera arrived via Fedex, with a few lenses, so today I figured I'd go take it for a spin. What better place to go on a cloudy day than the Ouray Ice Park, just a few blocks from my house? See a few more photos below.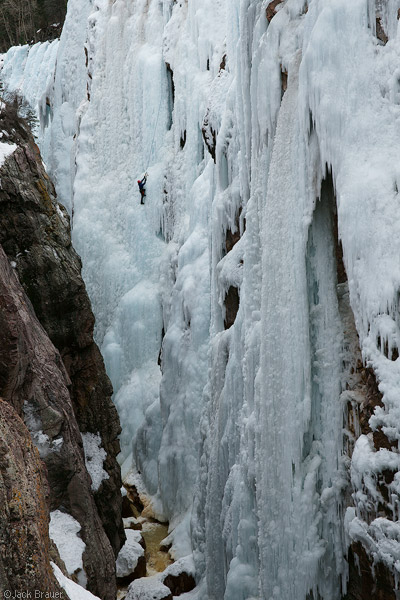 You may have noticed that I haven't been posting much recently. Indeed, I haven't been DOING much recently, except sitting at the computer day and night for over a week straight, building websites. But it's been good, because the weather has been so disturbingly warm and spring-like for the last few weeks that the snowboarding hasn't been too tempting. So I've gotten a lot of work done, finished a couple long overdue websites, and am finally caught up and on schedule again. I still have some very busy months ahead of me, with over 10 websites queued up already. Nevertheless, I've been realistic with my scheduling, so I will be able to get out more regularly for some backpacking and photography again. And hopefully some more snowboarding if it ever snows again…
The last month has been so warm it is worrisome. Sure the warmth is nice… in APRIL!!! Wearing t-shirts in Ouray in February is not nice, it is disconcerting, especially when it's like this for weeks on end. We can only hope that this is just Colorado weather wackiness, and not a deeper problem with global warming. Meanwhile, the snowpack is turning to mush, and the ice in the ice park looked positively soggy today. WINTER, WHERE ARE YOU? COME BACK!