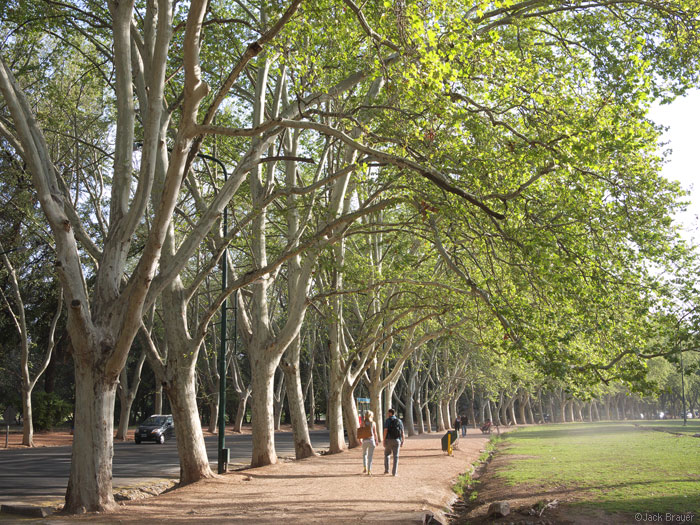 Claudia and I have been hanging out in the city of Mendoza, Argentina this week. It's a beautiful city; every street is lined with tall trees that arch over the streets and sidewalks, providing shade in this otherwise hot and sunny region.
We haven't been doing much so far – just walking around a lot, getting the hang of how things work around here, trying to find information about the mountains, and drinking our fair share of Malbec! We haven't yet done any winery tours, but we've found a great little wine tasting bar in Mendoza where we'll surely be spending some more time.
Mendoza has a really nice layout, with the large Plaza Independencia in the center of town, and four smaller plazas a few blocks from each corner. There seems to always be a nice plaza nearby to relax in! My only gripe about the town is the constant traffic – there's a steady stream of cars zooming around at all hours of the day and night. There's one pedestrian street through the center of town, with lots of cafes and shops. If I were king I would make four or five of the streets around here pedestrian streets… that would be amazing!
Anyhow, tomorrow we're finally heading up into the mountains for four days! It looks like there's a lot of snow up there still, but we've got our crampons and ice axes and we'll see how it goes…