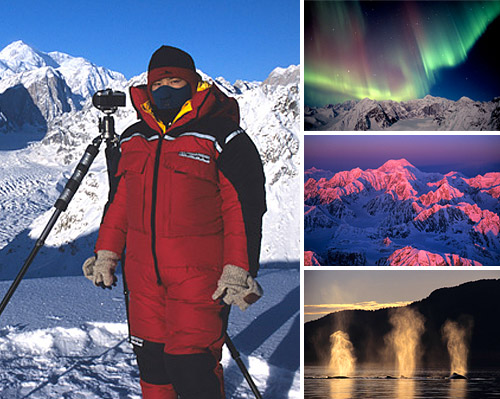 Norio Matsumoto is the most dedicated mountain photographer I know of. Every winter, he camps alone for months on end in a snow cave on Alaskan glaciers, and during the summers he camps on islands on the Alaskan coast, photographing whales. The result of his focussed efforts is one of the most spectacular mountain photo collections I've ever seen. Norio's work has been a big inspiration for me for years, and I finally emailed him recently to ask him a few questions.
It sounds like you return every winter/summer to the same glacier/island. Is this correct? How many years have you been doing this?
There are a couple of glaciers that I go for winter camping, and in summer, there are many different places that I camp. I have been doing this for about ten years.

When you are camping on the glacier, how far do you travel from your igloo? Do you ever set up other camps in different spots from your igloo?
I pretty much stay just around my camp since there are some hidden crevasses.
Can you speak about your mindset and emotions during these long solitary periods?
I totally enjoy being by myself. I camp out because I like doing it, but not because I HAVE TO do it. Otherwise, I cannot camp out in 20 to 40below temperature for two months!
What is the closest call, or scariest accident you've had in the wilderness?
When I camped in the middle of a big glacier, an incredible windstorm hit the camp. The wind funnel through the glacier and didn't stop for two whole days. I couldn't even go outside. Meanwhile, the wall of the cave became thinner and thinner due to the wind, and I could tell that by hearing the outside noise getting louder and louder. Fortunately, the wind stopped before the cave collapsed, but otherwise, I don't know if I could have made it through.
I've noticed that many wilderness photographers tend to go out alone. Why do you think this is?
For me, it would be hard to be with someone else and try to get good photos at the same time. I cannot concentrate. What I might end up doing is that I would be nice to that someone by keeping conversations, rather than just shooting photos, because I would feel bad for that person.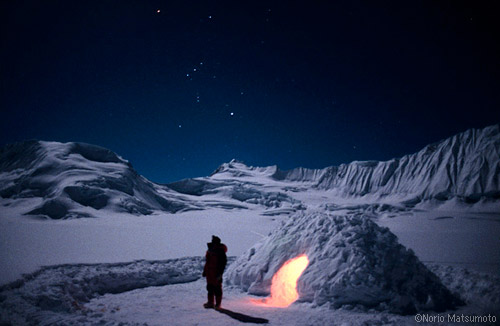 Where do you live when you aren't out on the glaciers or the islands? Do you photograph a lot during those periods?
I am in Japan when I am not in the wilderness. I spend half a year in AK and the other half in Japan. When I am in Japan, I write articles for Japanese magazines, travel around doing slide shows, and try to sell photos to magazines and calendars.
How has photography affected your lifestyle? Do you think you'd still be doing the same things if you weren't a photographer?
I just wanted to do something with all my might to feel the fulfillment. Photography just happened to be a way to achieve it. So even if I weren't a photographer, I would still be doing something else in order not to regret about my life.
If you had to pick just one or two personal favorite photos from your collection, which one would you choose, and why?
I like photos that show both Denali and northern lights. I have been trying to photograph it for the last ten years and there haven't been many chances to capture the moment.
Are there any other places in the world you dream of visiting and photographing?
No, there aren't. Only Alaska. There are so many beauties in Alaska that I cannot photograph it all with my lifetime.
---
Thank you so much for your time answering my questions, Norio! And best of luck with the perfect aurora conditions during your next glacier trip.
For everyone else, definitely spend some time checking out Norio's online gallery at www.NorioMatsumoto.com. Also, you can read another interview with Norio here.