Dave Showalter is an accomplished nature, wildlife, and conservation photographer. His dedication and relentless efforts shine through on his must-read blog Western Wild, which is full of inspiring photos and informative text. I recently asked Dave a few questions about his photography and his conservation efforts.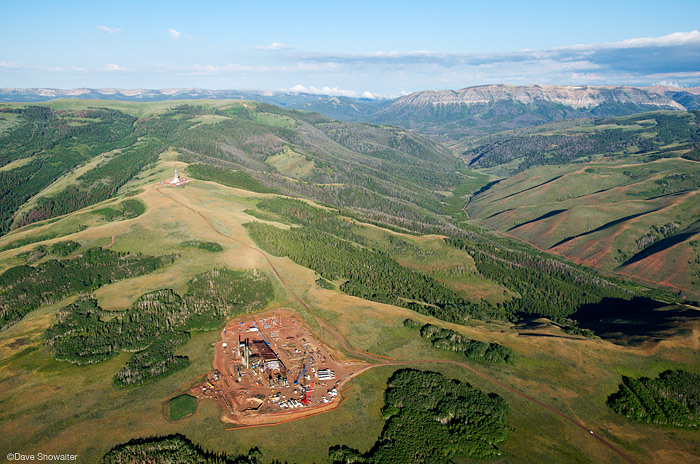 You've worked on a wide range of conservation fronts, most recently involving the Greater Yellowstone Ecosystem. Can you explain in a nutshell what this project is about? How and why did you become involved with this particular conservation effort?
I was contacted by Barbara Cozzens, NW Director of the Greater Yellowstone Coalition about their campaign to protect wild areas along the Absaroka-Beartooth Front. Barb understands the value of advocacy-driven photography and we agreed to develop a project with the support of the International League of Conservation Photographers (ILCP). It's called a "Tripods In The Mud" (TIM) where the three legs of the tripod signify the partnership of the conservation group, the photographer, and ILCP. The Absaroka Front TIM is a big step for any conservation group, and GYC deserves a lot of credit for thinking outside the box and partnering with ILCP. It speaks to their commitment to the Greater Yellowstone Ecosystem (GYE). We planned three photo expeditions in August, September, and November and I covered an enormous amount of territory in Cody Country.
The A-B Front forms the eastern boundary of Yellowstone, is often called "Yellowstone's Wild Side" and includes a bewildering amount of truly wild country, the Shoshone, Clark's Fork and Greybull Rivers, and important migratory and winter habitat for a lot of Yellowstone wildlife. The recreation and sportsmen opportunities, and associated revenue are enormous. It's easily the wildest and most important landscape in the West, and it's all threatened by oil and gas drilling, fracking. Our job is to illustrate why this land is so important to the GYE, steer energy development to more appropriate "brown field" areas, and get the A-B Front protected by convincing land managers and local politicians that it's the right thing to do long-term. The timing is critical too, with both the Shoshone National Forest and the BLM drafting their 20-year land management plans right now.
Can you describe your "fantasy" conservation photo? By describing a few of your "dream" conservation-related photo scenarios, whether in the past or future, I hope to gain an insight into your strategies and goals when heading out for a shoot.
I approach my work in a story-telling fashion, linking images with many elements on a landscape scale. Rarely do I even think about a fantasy photo because there's always a lot more to the story. I guess that's why it's often called documentary photography; which I don't care for because I think we're all trying to present the work in an artistic way. On a rare occasion, there is an opportunity to make a single image that either shows a roadless area that warrants protection, or a place that's been completely decimated by industrial development. Aerial photography is a great way to make connections and I've been able to do both through my partnership with LightHawk.
What is the most challenging aspect of your photography when you're out in the field?
I think it's difficult to accomplish all that I want to in a finite amount of time. I want to tell the whole story at once and have to remain patient, realizing that it's a marathon, not a sprint. There's also the variables of weather and wildlife having the freedom to roam. I also miss home and my wife, Marla.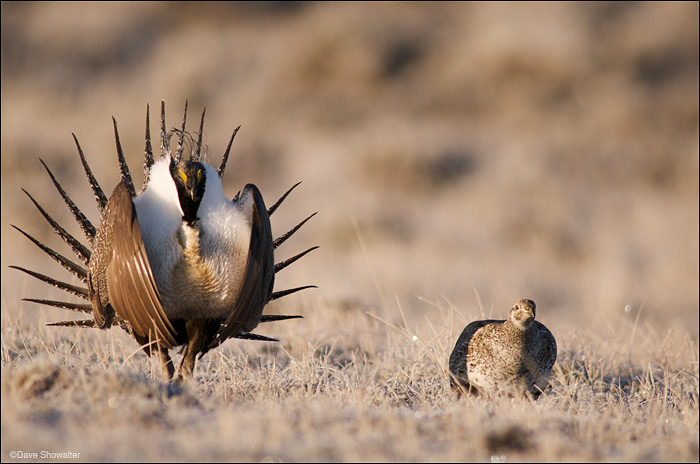 What is the most challenging aspect of your photography business?
It's been tough financially through the recession and I continue to look for ways to diversify through assignment, stock, editorial, teaching, print sales, and so on. Funding for conservation disappeared when the economy tanked, so I've had to adjust my plans for the Sage Spirit project. If there's anybody out there that would like to help fund my conservation project in a tax deductible way, I'd love to hear from you. [You can donate to Dave's cause here: http://www.westernwild.org/sage-spirit-conservation-project/ ~Jack]
What is your dream as far as your own photography career? Where do you see yourself in 10 years assuming that everything works out the way you may envision?
My job, as I see it, is to be a voice and a vision for conservation in the American West. I don't see that changing, nor do I see the pressures on Western lands lessening anytime soon. Although I'm not limited to the West by any means and there are many places that I'd like to work, the Intermountain West is my foundation and I love it here. I'm sure the work will evolve with changes in technology, but the power of images paired with activism can't be denied.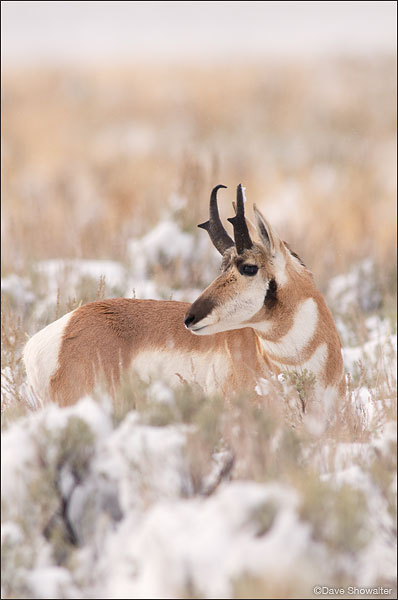 It seems that most nature photographers today are content with taking pretty landscape photos. Yet I think we all understand that conservation photography such as what you're doing has a much more direct and important purpose. That said, from a conservation photographer's point of view, do you think that there is any environmental value in all the pretty landscape photos? Where do you think all the simply pretty nature photos fit in the grand scheme of things and is there any purpose?
There's nothing wrong with making beautiful images – I like looking at them and making some of my own too. It's really where the whole love of the land starts, absorbing the beauty all around us, you know? Culturally, we're of the belief that everything is just fine because we had the wisdom to create national parks; and while national parks may have been our best idea, we could have taken that ethos much further. Conservationists are fighting for the places in between, marginalized because they didn't warrant protection for one reason or another, but no less important than a national park.
We've also also developed a belief that industry is far more valuable than undeveloped land, so the playing field is often tilted heavily towards development. Yet everyday, small groups of people inspire us by standing for what they believe in; and sometimes they convince land managers to protect a place that matters – photography is important to these conservation missions.
Pretty pictures all by themselves do nothing for conservation. Informative captions can add a lot to our image presentation, explaining why the photograph or place matters. Anyone can be involved in conservation; so why not assemble photographs that tell a story and inform our Facebook friends and fans of our work. Go to one of Tom Mangelson's "Images Of Nature" galleries, look at the images and read the captions with their informative text. It's subtle, yet powerfully informative.
What are your thoughts about using photography to actively promote threatened wild places for recreational purposes? It seems like the more people that can actually see and enjoy these places, the more beloved and protected they may become. Yet, the more people there are going out there hiking and hunting, the less wild the place becomes.
It's complicated. I've photographed in sensitive places where I use the county as the general location. In other places, like the Wyoming Range or Vermillion Basin in northwest Colorado, we want people to go there and see the special, unique qualities of the land for themselves. I don't think we need to be leading pot hunters to every Anasazi site, but there is value in using common sense when sharing largely unknown places for a targeted conservation goal.
Why do you think it is that many people find conservation to be so offensive of a concept? I can't seem to wrap my head around this – I mean wouldn't it be a "conservative" value to manage our land and resources with wise, long-term, responsible strategies? Why this knee-jerk reaction against conservation, and is there any way to overcome this?
I suppose that some people associate conservation with environmentalism; and while they're not mutually exclusive, there are fundamental differences. There's also this toxic political atmosphere where uninformed people feel an obligation to spew their ideological views on everything. I guarantee you this: If you live in Pavillion, Wyoming, even just for a few days, you will see the conservation value in protecting the right to clean air and water for Americans, our Western neighbors. It's not a political issue; but many would like to draw those lines, some without conscience. It's important to recognize that no matter how hardened our views, we all agree on 90% of the issues. People find common ground in the rural West every day – sometimes the threats come knocking on your door.
Wild lands are constantly being destroyed or are under threat, not only in the States, but all over the world. How do you pick your battles? Do you ever find it all overwhelming to care about these places? Are you optimistic about the future of the planet's wild lands?
I'm inspired by the ILCP photographers working everywhere in the world to raise awareness and be that much-needed voice to make a difference. Of course it's overwhelming; but I gain credibility by working with the top conservationists in the West and just focus on telling a story with images. It's not terribly complicated to identify core habitats and wildlife corridors as priority landscapes. My friend Michael Forsberg reminds me that the tobacco industry was king until a small group of dedicated people exposed their lies and brought them down. I believe we'll see that with hydro-fracturing (fracking) in the next decade. I can't say I'm optimistic so long as we're heavily dependent on fossil fuels, ignoring climate change, and growing our population at the present rate – but I'm still driven to do what I can.
Thank you Dave for taking the time to answer my questions, and more importantly, for putting in so much effort and talent towards saving these important wild lands.
Be sure to visit Dave's blog Western Wild often, and also don't miss his wonderful image galleries.