After our big Cordillera Huayhuash trek, followed by a rest day in Huaraz, four of us headed out into the Cordillera Blanca near Huaraz for a three day hike up the Quilcayhuanca valley, over a high pass, and down the Cojup valley. This time we would not have burros to carry our gear for us! Also unlike the Huayhuash trek, we would have some challenging weather this time.
It rained for the last several hours of our hike in towards Laguna Tullpacocha, and we got a bit off track from the "trail". But we found a nice hidden campsite and managed to get a good bonfire going despite the wet wood. Once the clouds cleared that evening, the glaciated peaks surrounding us shone in the bright moonlight, and we slept under the stars that night (along with a local cow who had been trying to enjoy our campfire with us).
The next day we had to hike over a ~5100m (16,732 ft.) pass. Turns out that this is much harder to do without burros carrying half your stuff. But Erik was still stylin in his city jeans, with Nevado Pucaranra behind (6156m).
Claudia keeps going. In the background is (I believe) Nevado San Juan (5843m).
From the top of the pass, the view of the massive Nevado Ranrapalca (6162m, 20,217 ft.) was impressive. Notice how easy it is to see how the glaciers have recently receded.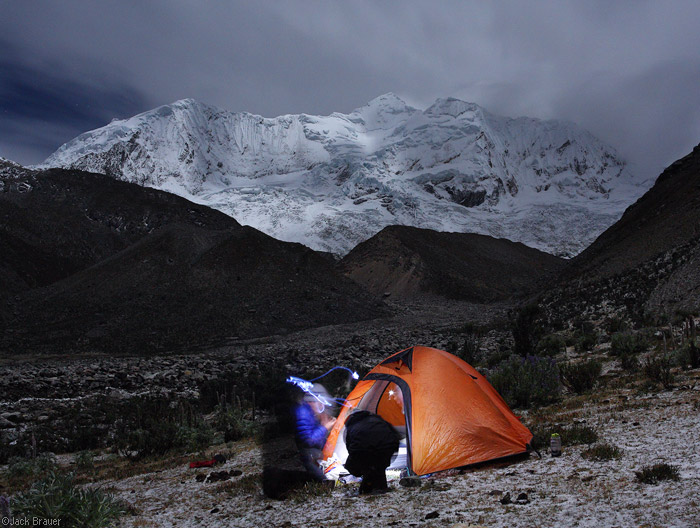 Just as we got down off the pass and arrived in the Cojup valley, the clouds unleashed with pelting hail. We set up our camp and made dinner in the freezing cold. Nevado Palcaraju (6110m) shines in the moonlight during a break in the clouds. Notice the huge glacial moraines in the center of the valley below the glaciers.
After a lazy morning start, and a somewhat confused hike out the valley, we were eventually all back in Huaraz again that night to celebrate with fine Peruvian wine and food!