On Wednesday Claudia and I skied along snow-covered County Road 7 to the Blue Lakes Hut, one of five huts in the San Juan Huts system here in southwest Colorado. These small but cozy huts provide great winter base camps for exploring the remote northern side of the Sneffels Range.
The Blue Lakes Hut is situated in small meadow a short distance from the summer Blue Lakes trailhead. From the hut you have a foreshortened view of the summit of Mt. Sneffels (14,150 ft). There are south facing windows that let a good amount of light in, and a wood stove that cranks so hot that we had to open the windows at night!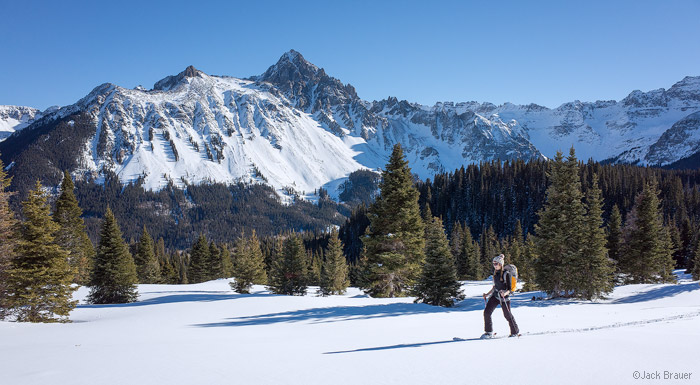 We had hoped for some decent tree skiing on the slopes above the hut, but unfortunately all we found was impenetrable forest and flat meadows. After two hours of breaking trail through the powder on switchbacking old forest roads with no skiable terrain in sight, we pulled the plug and basically skied back down our skin track with the occasional bushwhack mixed in. A bit frustrating, but once we were back in the hut a hot cup of gluhwein made everything ok! I think there are some worthy ski descents in the area up in the higher peaks, but they are far from the hut and would require a full day tour and stable avalanche conditions.