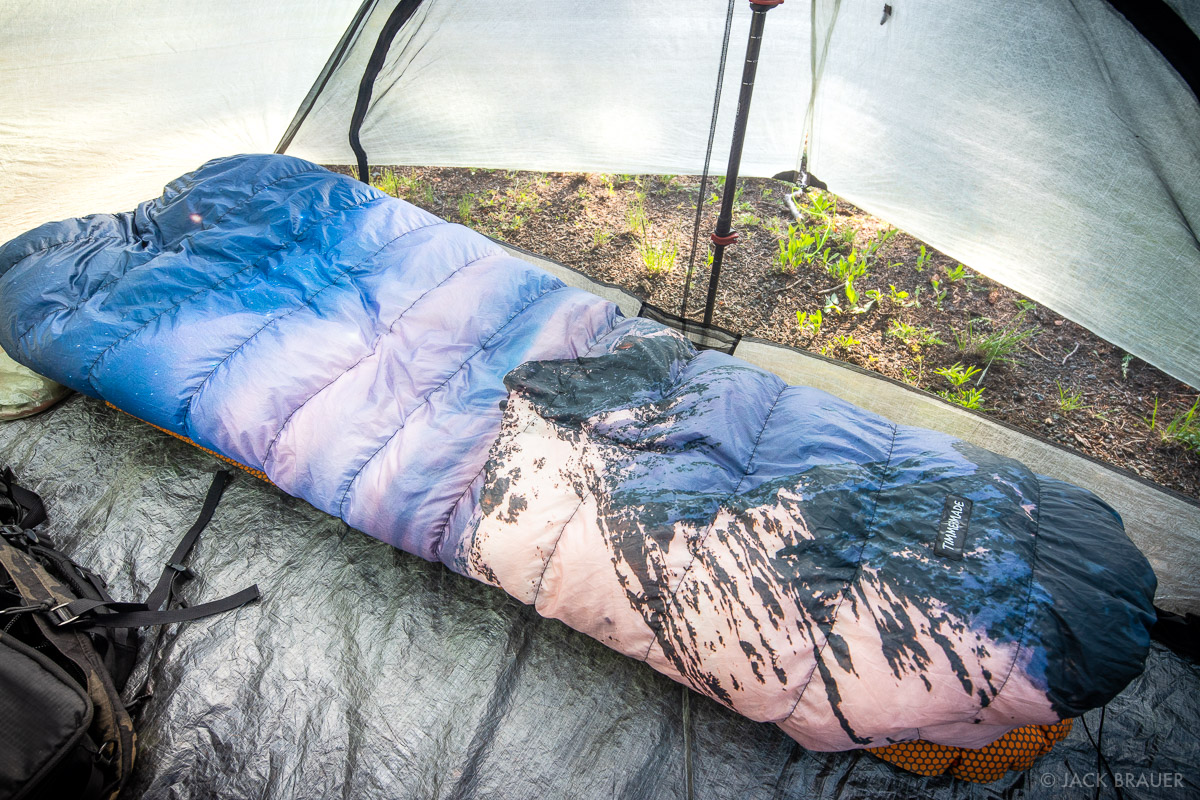 Several years ago my wife and I replaced our two-zippered-together-mummy-bags sleeping bag setup with a Feathered Friends Spoonbill double bag. This was a game changer for our frequent backpacking trips, reducing our sleeping bag weight from over 4 pounds down to an incredible 2.5 lbs with the same or even better warmth. How was this possible? The secret is the false bottom. Since down insulation is mostly compressed (and thus useless) when you're laying on top of it, you might as well just get rid of it altogether on the bottom! This is what Feathered Friends did with the Spoonbill – the top and sides are full of high loft 950-fill down, while the bottom is simply a thin fabric sheet. The result is a massive weight savings without hardly any warmth penalty (assuming you have a decently warm mattress).
Recently while rethinking my solo backpacking setup, I wondered if I could cut some significant weight with a similar false bottom solo bag, instead of the normal standard mummy bag design I've been using for years. After extensive research I stumbled upon the Timmermade Wren false bottom sleeping bag. The specs boasted a 19oz weight for a 20º rated bag – impressive considering my 15º Western Mountaineering Apache bag weighs 33oz! Plus the pricing was competitive with comparable high end sleeping bag brands – also impressive considering that the Timmermades are custom tailored bags. After discussing some questions and options with the owner/maker Dan Timmerman we got the order rolling. What you see here are the results: the Timmermade Wren False Bottom sleeping bag, 20º rated, 950 fill down, 19oz (1lb 3oz), $420, with custom printed fabric.
Read on for my full review and impressions of this unique ultralight sleeping bag.
A big added bonus (especially irresistible for a photographer like me) is the option to use custom printed fabric for the sleeping bag! For this you'll need a roughly 76″ L x 60″ W image, so pretty high resolution. The most fun part of the process for me was choosing which photo to use; I ended up going with a vertical image Stars Over Wetterhorn, with the peak placed right in the center. I think it turned out really well.
As for the bag itself, the Wren achieves its ultralight 19oz weight in four primary ways: 1) The false bottom, so no extra, unneeded down weight in the center bottom; 2) No zipper; 3) No hood; and 4) I opted for the lightest and highest quality 950-fill down.
While a zipper can be nice for regulating heat, it's not actually necessary and I appreciate the weight savings. It's still easy enough to get in and out, or regulate heat, by just sliding the whole top up or down. In warmer weather it's possible to spin the bag around so that the false bottom is on top, allowing heat to escape. Additionally, the foot of the bag has a drawcord closure that can fully open up the foot of for more ventilation if your feet get hot.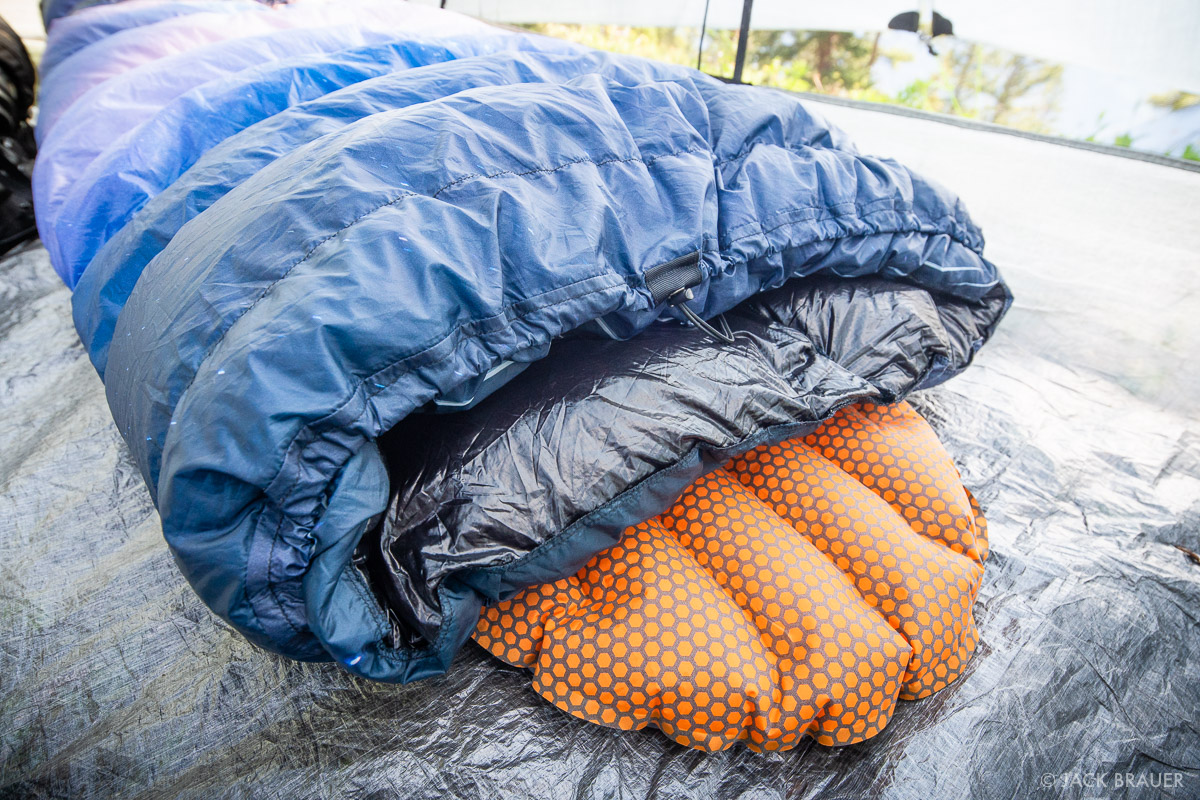 The 20º temperature rating is very accurate in my experience so far. It's totally comfy at temps in the 30s; for 20º weather I would want to be wearing long underwear, a warm hat, and perhaps a down sweater. I asked Dan to make the upper bag a bit wider to accommodate the extra space of a down jacket in cold weather. It takes a little bit of getting used to a bag without a hood; at first I felt like my head was hanging out there instead of the cocooned feeling you have with a mummy bag. But now that I'm used to it it feels just fine, and in fact I like how I can tighten the drawcord around my neck area, effectively sealing the warmth in, and I don't need to carry the additional weight of a hood during the summer. In much colder weather I'll bring a separate down hood. Dan makes the compatible Waterbear Hood for very cold weather, or something like the Zpacks Goose Hood does the trick. Overall the 20º Wren's warmth seems very closely comparable to my 15º Western Mountaineering Apache bag, which is remarkable given that it's nearly half the weight! (By the way, Timmermade bags are available in any variety of temperature rating).
Since Dan custom makes each bag upon ordering, he is able to custom tailor the dimensions exactly to your own preferences. This means there's no extra unneeded size/weight to accommodate possibly taller people (a notable advantage for a shorter person like me), or if you're a tall person you'll get a perfect fit too. If you like a bit wider bag for extra comfort, that's also doable. I opted to keep the footbox area narrow (for warmth and weight concerns), then it spreads extra wide towards the top above the knee area. I think if I did this again I'd made it a little wider in the knees as well just for a bit more freedom of movement for my legs.
As for the false bottom, while the weight savings advantage isn't quite as dramatic as a much larger 2-person bag like the Spoonbill, it still provides some weight savings. At the very least it allows the bag to be much wider and more comfortable than a mummy bag of the same weight. I think it's a great hybrid between a mummy bag and a quilt – it has some of the weight advantage of a bottomless quilt, without any potential issues with draftiness. The Wren comes with a clip strap that you can strap around your sleeping pad to keep the false bottom perfectly in place through the night, though so far I've preferred to keep it unstrapped for more freedom of movement.
It's also worth mentioning that the Timmermade bag appears to be very well built, and has high quality construction features that you'd find in the top brands, including baffled walls and differential cut (where the inner diameter of the bag is smaller than the outer so that the down remains lofted even when pressure is placed on the inside).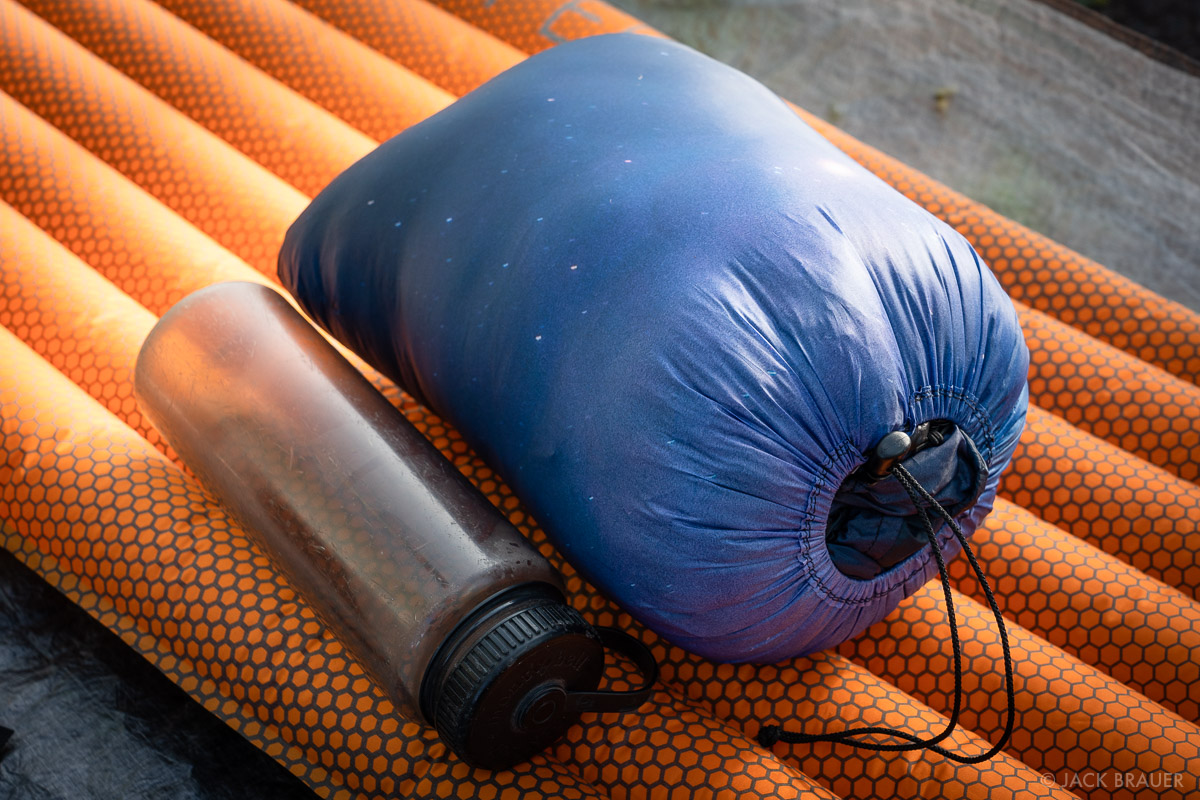 Dan made a stuff sack for the bag using spare fabric from the custom printed fabric, which is a nice touch having it match. The stuff sack also happens to be the perfect size for comfy, soft pillowcase when stuffed with my down sweater at night. The stuffed sleeping bag is much more compact that my WM Apache bag, about the height of a 1-liter bottle.
The closest comparable product I found to the Timmermade Wren would be the 20º Feathered Friends Tanager, also a zipperless, ultralight bag at about the same weight. But the Wren has a number of significant advantages including the custom tailored dimensions, the false bottom feature, footbox drawcord ventilation, and of course the custom printed fabric option! The only other viable options in this weight range would be quilts, which would be more versatile for warmer weather but potentially drafty and less warm in colder temps.
So far I am very much pleased with my Timmermade Wren sleeping bag, and I think it was the best possible sleeping bag choice out there for the combination of warmth and ultralight weight, with the added bonus of being custom tailored to my personal dimensions and preferences. The custom printed photo fabric is the cherry on top! If you choose to purchase a Timmermade Wren False Bottom sleeping bag, I'd recommend to contact Dan Timmerman and he will tailor the bag to your exact specs. A chart of approximate weights and specs can be seen on his site.
For the record, I received no financial benefit or discount from Timmermade for writing this review. My intention is to spread the word about a great ultralight product made by a small business owner.