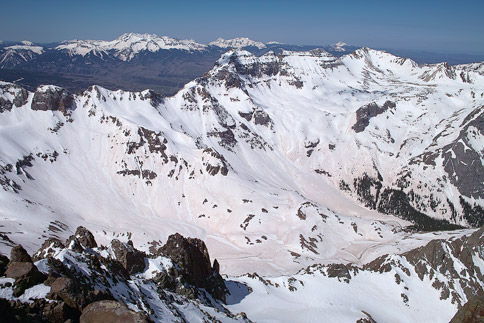 Today I hiked and snowboarded down Mt. Sneffels (see the riding photos in the next post). Here's the classic view looking from the summit into Blue Lakes Basin. Notice all the ugly brown snow?
When it's windy in the western states, dust blows from the deserts and ends up smothering the mountains. It's a phenomenon that has probably happened naturally through the ages, but has become much worse in recent decades due in part to large scale grazing which erodes the desert soils. I've even heard that some of the dust blows all the way across the Pacific from huge dust storms in China!
In any case, the dust has a terrible effect not only on the snowpack but on the entire watershed. The dark dust absorbs much more solar radiation than pure white snow, causing a rapid meltdown of the snowpack. In heavy snow years like this year, it could cause flooding problems. In light snow years, it can cause premature meltdown, leading to drought conditions during the summer.