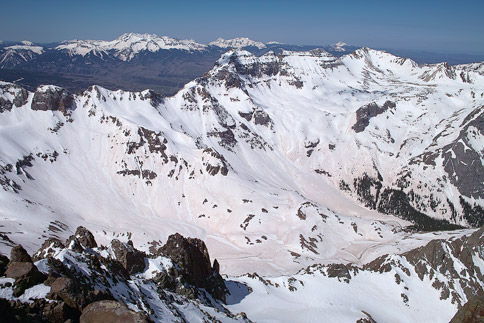 Today I hiked and snowboarded down Mt. Sneffels (see the riding photos in the next post). Here's the classic view looking from the summit into Blue Lakes Basin. Notice all the ugly brown snow?
When it's windy in the western states, dust blows from the deserts and ends up smothering the mountains. It's a phenomenon that has probably happened naturally through the ages, but has become much worse in recent decades due in part to large scale grazing which erodes the desert soils. I've even heard that some of the dust blows all the way across the Pacific from huge dust storms in China!
In any case, the dust has a terrible effect not only on the snowpack but on the entire watershed. The dark dust absorbs much more solar radiation than pure white snow, causing a rapid meltdown of the snowpack. In heavy snow years like this year, it could cause flooding problems. In light snow years, it can cause premature meltdown, leading to drought conditions during the summer.

As for recreational effects, such as skiing, the dust can annihilate a wonderful spring snowpack like this year's. You can imagine my disappointment as I looked at all the beautiful ski terrain around the Blue Lakes Basin that is basically trashed and unskiable for the rest of the year. As for photography, well look at it! It looks like toilet stains. Also, on lower snow years, the summer wildflower seasons could really be hurt by the premature meltdowns.
While the dust layers can affect all the ranges of Colorado, the San Juans seem to get the brunt of it. I've noticed in previous years when the dust was much worse in the San Juans than in other ranges such as the Elks or Gore.
Snow scientists have recently begun studies focussed on the dust layer. It remains to be seen what the full causes and effects are, and whether there's anything we can do about it. (UPDATE: Here's an informative article out the dust and its mankind-induced causes: Dust in West up 500 percent in past 2 centuries, says CU-Boulder study). In the meantime I will just mourn the loss of what could have been an epic ski season into July.
For reference, here's a picture I took from the summit of Sneffels in June 2005, another big snow year but without a dust layer. Notice how pristine white the snow is… the way it should be.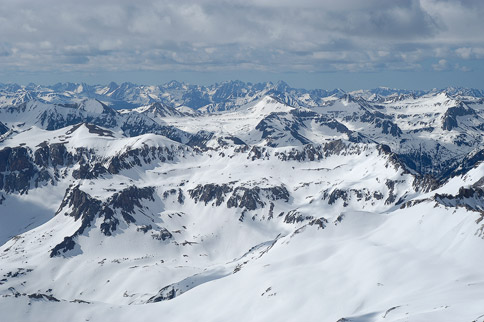 (UPDATE: April 3, 2009: See photos of a huge dust storm blowing into the San Juan Mountains in this post).