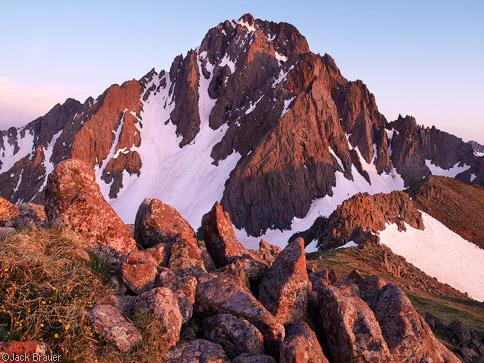 On Saturday I camped up in Blaine Basin, with Mt. Sneffels towering above. That evening, I hiked up to the summit of Peak 12,910, which has an incredible vantage point directly facing the rugged north face of Sneffels. I've hiked to many different vantages around Mt. Sneffels, and I think this one is the best!

As you can tell if you've read my recent posts, I've had a major focus on Mt. Sneffels lately. This isn't really a conscious project of mine, it's just that Sneffels is close-by, it's the tallest summit around here, it's a fun hike, and it's a beautiful peak to boot.
On this trip I brought my 4×5 large format camera, as usual, but I also brought my new Olympus E-420, which is a very small sized digital SLR. The two photos above are from the E-420. Once I started using this camera on this trip, I was immediately pleased – it is a joy to shoot with, in large part due to the awesome 12-60mm lens, which might be the best SLR lens I've ever used. The range is perfect, the auto focus is lightning fast, and the macro focus is impressive. I will certainly post a more in depth review of the camera/lens fairly soon, after I have more experience with it. But for now I will say I am really stoked on it.
The snow is really melting away fast now, and green is taking over wherever the snow is gone. The first wave of wildflowers has begun in the high country.