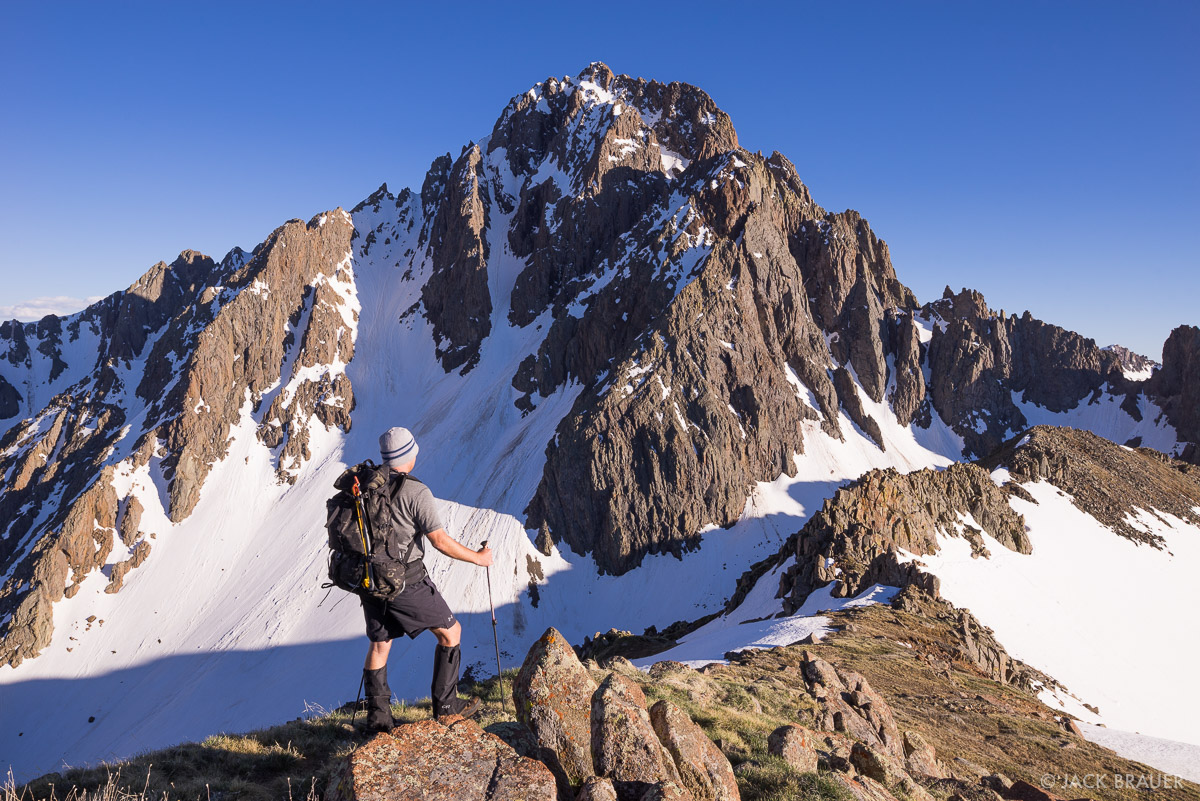 I have a knack for spotting good backpacks. Just by looking at pictures I can usually tell if a backpack is going to be a good heavy hauler or not. So when I stumbled upon Seek Outside's website and studied the pictures of their backpacks, I was practically salivating — they just looked good. Really good. And they're based in western Colorado, an extra bonus.
So I emailed them asking if they'd consider custom making a panel loader for me. I've written about panel loader backpacks before and why they are the best type of backpacks for hiking photographers. Panel loader backpacks have a big zipper that wraps around the backpack, enabling easy access to the main compartment. A photographer can place his or her padded camera case inside and have quick access to it, rather than having to dig down through the top like most backpacking backpacks. And unlike most photography-specific backpacks which fail miserably for serious hikers in the ergonomics department, a backpack from a real outdoors company will almost always perform much better on long hikes and backpack treks.
Well, I heard back from Seek Outside and was delighted to discover that not only are they based in Ouray, the same town I live in, but I also already knew the owner Kevin Timm! Why I didn't realize all this before I cannot say; I must have been hiding under a rock (which is kind what living in Ouray is like, come to think about it!) I was also delighted to hear that Kevin had already been thinking about producing a panel loader and was eager to hear some of my input. The end result is the Seek Outside Unaweep-Exposure panel loader backpack, a lightweight heavy-hauler and quite possibly the ultimate backpack for the backpacking photographer! Read on to find out why I am so enamored with this backpack.
It carries a heavy load better than any other backpack
Seek Outside packs (also formerly known as Paradox Packs) are I think better known in hunting circles due to their capacity to comfortably haul extremely heavy loads (such as carrying elk out of the woods). The pack is almost like an external/internal hybrid, with a sturdy, contoured, mostly-external aluminum frame with a rugged pack that's tightly coupled onto the frame. The result is an incredibly sturdy and supportive frame that can handle heavy loads with ease. The way the pack is designed holds it very closely to your back with most of the weight transferred to your hips and very little backward pull on your shoulders. The way the hip belt is connected also gives the pack a cushy ride that dampens the shock and leads to a kind of "floaty" feeling on your back. The pack rides so well on my back that it makes it feel lighter than it really is; during long hikes I got so used to it that I sometimes forgot I was even carrying a heavy load!
My longtime previous pack was a custom McHale panel loader. McHale packs have long been renowned for being excellent lightweight heavy haulers, arguably the reigning king of this class of backpack amongst diehard alpine gear freaks. I have used my McHale pack on countless treks over the last 8 years, and it has served me well, but I can honestly state that this Seek Outside pack rides even better than the McHale on my back — a feat I thought impossible.
But it's also lightweight
While the Seek Outside packs are designed for heavy loads, the packs themselves are NOT heavy; on the contrary they are lighter than most comparable volume packs on the market! This is due to the simplistic and minimalistic design, the lightweight materials used, and the lack of unnecessary bells and whistles.
The weight of the Exposure pack is a mere 3.5 pounds; lighter than most daypacks!
The pack is made with lightweight but high strength XPAC material. There are several weights and colors you can choose from; I chose X50, a 2-layer 500D cordura, the heaviest but strongest of the options. I figured a few extra ounces is worth the extra durability. I chose a black camo color, how cool is that?! The inner side of the material has a rubbery-feeling waterproof laminate which apparently makes the pack waterproof enough that you can leave the rain cover at home. (I have not had a chance yet to test this in heavy rainfall).
It's a panel loader and designed for accessibility
As mentioned above, panel loaders have a zipper that wraps around the outside allowing easy access to the contents (and camera) within. This is absolutely crucial for us photographers, who need to be able to pull our camera gear out as quickly as possible to catch the light. But even if I weren't a photographer I'd still prefer panel loaders for the same reason — because digging down through a top loading backpack just sucks no matter what you're doing. With a panel loader you don't have to unpack everything just to get to something at the bottom; you simply unzip the pack and grab what you want, leaving the rest in place. So much more convenient.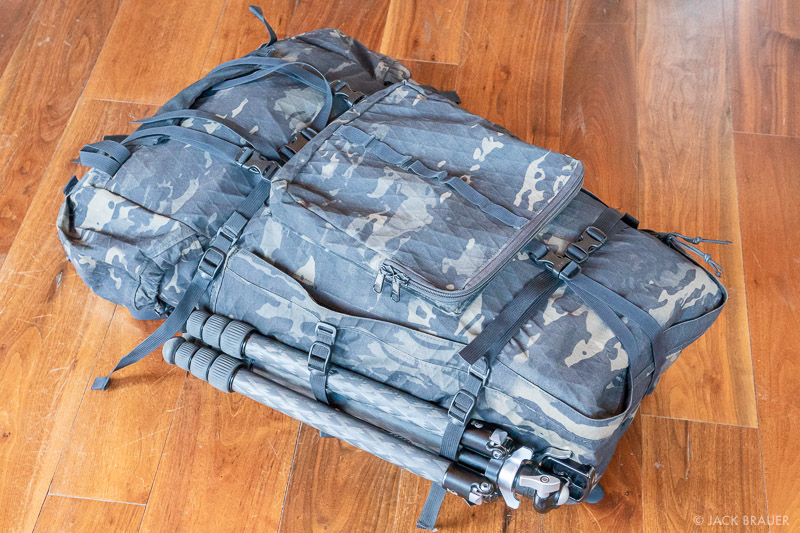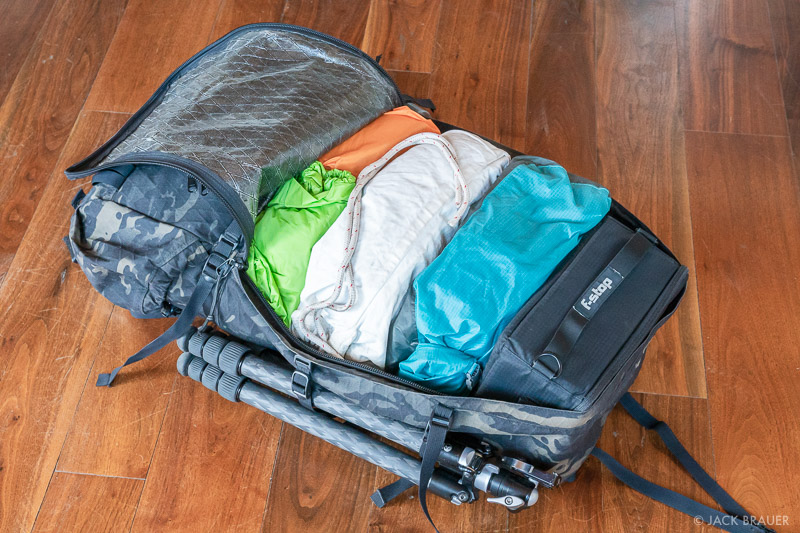 Additionally, we designed the Exposure in such a way that you only have to unclip two compression straps in order to unzip the entire zipper. Or just one if you only need to unzip the top to get to your camera. Super quick. When a tripod is strapped to the side, the compression straps are designed so that the tripod remains strapped securely to the side even when the compression strap buckles are undone when accessing the zipper.
The panel loader zipper wraps all the way around the top and extends down to about 2/3 the length of the pack on both sides. This saves weight compared to a full-length zipper, and also a full-length zipper is totally unnecessary anyways since usually the bottom part of the pack is stuffed with a sleeping bag. The zipper is a sturdy heavy duty zipper with big teeth that will surely never bust.
The Exposure has no built-in photo gear compartments, but those are unnecessary and unwanted anyways for a backpacking backpack since they just contribute to the bloat and weight, and are inseparable from the pack. The best way to do this is to have your camera and lenses organized in a padded camera case, which you can then insert into the pack and pull out when you need it. On most of my backpacking trips I take one camera body with three lenses; these all fit into an F-stop Small Shallow ICU case, which I place at the top of the backpack (for easiest accessibility and also so that my other camping gear doesn't squish my precious lenses). Most of F-stop's ICU cases have the same 11.5″ width so should also fit nicely into the Exposure pack.
The fit is adjustable
Seek Outside's packs have an ingenious and easy-to-use adjustable frame height. This in itself is a huge advantage over the McHale packs, which are custom built exactly to your specific torso length (and thus also much more expensive). With Seek Outside's packs there are two simple adjustment straps right on the outside behind the shoulder harness that you can use to adjust the pack's torso length by about two inches. You don't have to take anything apart, or reset huge velcro pads, or any kind of hassle like that; you simply adjust two easily accessible straps. Since frame height is probably the single most important factor for proper backpack fit and comfort, the advantage of this easily adjustable frame height cannot be overstated.
In addition, each pack is available in 3 different base frame heights so you can be sure to get one that will fit perfectly regardless if you're short or tall.
The pack compresses efficiently
Oftentimes when backpacking you'll end up doing side hikes from camp and for that it's helpful to have a backpack that compresses down smaller so that you don't have a big gangly sagging pack to hold just a few day items. Seek Outside's packs compress very well, and very easily.
The reason this pack compresses so well, and noteably better than most other packs, is because it's got compression straps not only for the sides but also for the top and bottom of the pack. The most important of these is the bottom compression flap that can be cinched down to squeeze off the bottom space, allowing the contents to ride up in the middle of your back where they should be.
When all the compression straps (two bottom, two sides and back, and one up top) are cinched down, the pack snuggly holds your smaller load against your back, with no awkward sagging or loose items.
Because of the pack's light weight and great compression capability, it really makes you second guess the need for a day pack at all, since this one is probably lighter anyways and rides so well.
It's just about perfect!
While giving my feedback and helping develop the design of the Seek Outside Exposure pack, I was able to take all the details I've thought of to improve upon my McHale pack, and Kevin implemented them on the Exposure. The result is a pack that is pretty much perfect in my opinion. Perfect not only for backpacking photographers but for any backpacker for that matter.
We considered including a tripod sleeve on the side, to protect the tripod from scrapes. I'm on the fence about that… on one hand yes it would be nice to protect the tripod, but in the end I decided that it's not worth the extra material weight. After all, it's easy enough to slide the tripod under the two side compression straps, and who cares if the tripod gets a few nicks and scratches. But, it could be a nice future option, perhaps especially for people who do a lot of bushwhacking or slot canyoneering.
My only (minor) complaint is that it's kind of difficult to reach back and get a water bottle out of the side bottle pockets (and put it back). But this is mainly due to the way that the pack rides high your hips, which is a good thing. So I think this minor issue is unavoidable, and certainly a worthy tradeoff for having a pack that rides so incredibly well.
It's Reasonably Priced
For such a rugged, high quality, hand crafted backpack, the $449 price tag is well worth every penny. A comparable custom made McHale pack would cost more than twice that amount. And while many of the mass-market brand backpacks can be had for much cheaper (since they're probably made in China), they most likely will not come close to matching the Seek Outside packs in durability and most importantly how well they can carry a heavy load on your back. This is a pack that should last decades of heavy use.
Gold Medal, 5 Stars, Highly Recommended, Two Thumbs Up, Etc.
If you can't tell by now, I am deeply in love with this backpack. Compared to my previous custom backpack that already performed well, the Seek Outside Exposure is lighter, rides better, and has all the little details perfected. I'm grateful to Kevin Timm for listening to all my input and incorporating all of the details into the design. So thank you Kevin!
So, in summary, this backpack is IT. If you're a backpacking photographer, or any backpacker for that matter, I wholeheartedly recommend the Seek Outside Unaweep-Exposure backpack!
UPDATE FOR 2020: Unfortunately, Seek Outside has discontinued production of the Exposure backpack. As much as I love panel loader backpacks, I still think the #1 priority of a backpack is how comfortably it carries a heavy load, which Seek Outside packs do very well, and at a fraction of the weight of comparable heavy-hauling backpacks. So despite the lack of panel loading, I would still recommend their Divide 4500 Backpack.