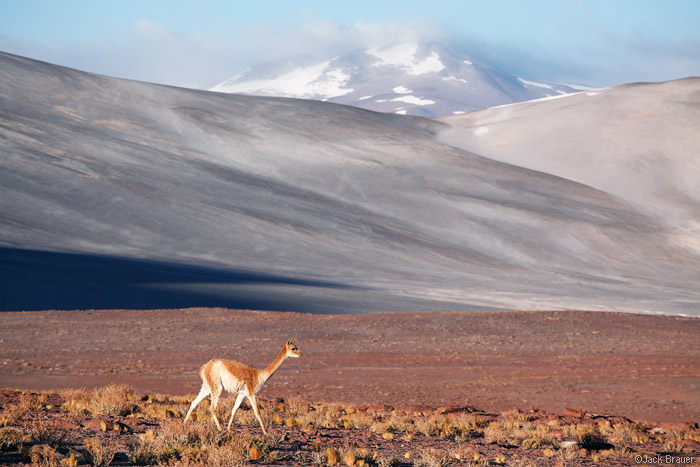 After renting a 4×4 truck in Antofagasta, we've spent the last week camping and touring in the Atacama desert, based around the oasis town of San Pedro de Atacama. Read more about our adventures this week, and see LOTS more photos below!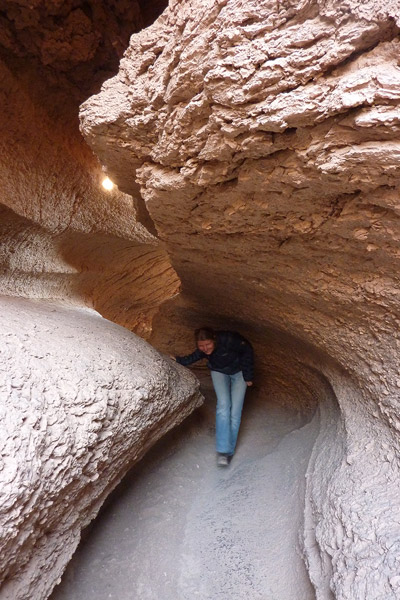 Our first stop was the famous Valle de la Luna (Valley of the Moon), an interesting geological area full of strange salt-rock formations. The highlight of our afternoon visit here was a fantastic little hike through a strange slot-canyon-cave-tunnel. The rock here is really interesting – it looks like mud, but it's really super hard salt-infused rock.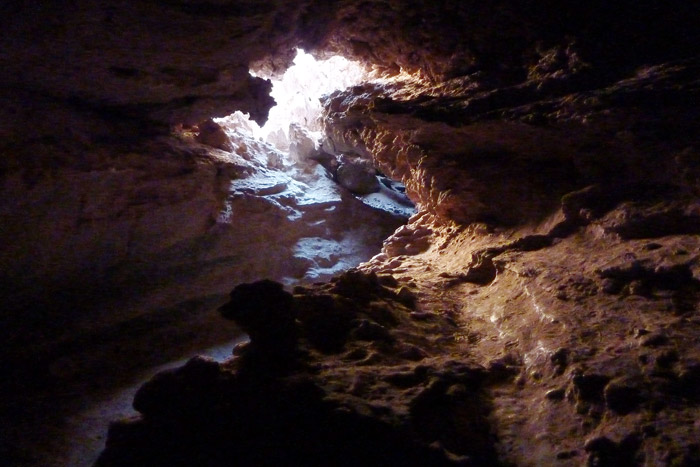 We forgot to bring our headlamps on this hike, but pressed ahead in the darkness of the cave anyways using Claudia's camera light to guide the way. Luckily the cave/tunnel wasn't too terribly long and we popped out the other end pretty soon.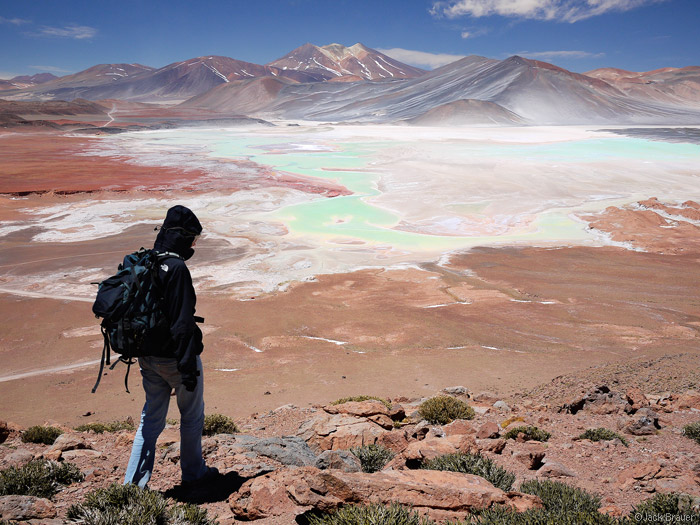 The next day we drove up and up and up above the desert to the Salar de Aguas Calientes, a high lake and salt flat at about 13,000 ft. elevation with a series of hot springs along the edge (not great for bathing, unfortunately, due to lots of green muck and bitterly cold winds).
The water in the salar is an amazing turquoise color, with surreal barren mountains rising above – a photographer's paradise! I took many many photos around here; I'll post more once I'm home in January. (In fact, I'm not posting most of my best shots yet because it's too difficult and time consuming to process them on my little laptop screen).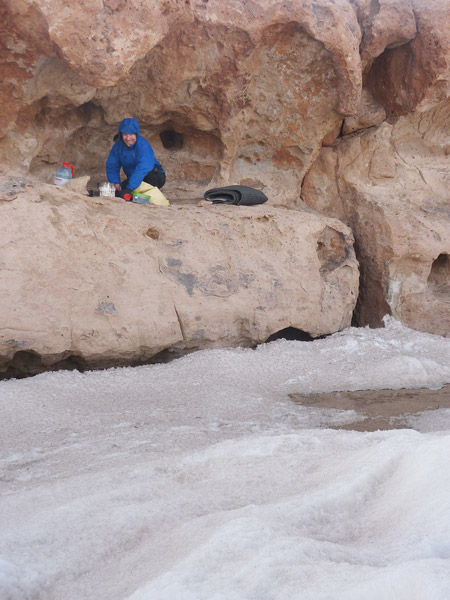 At this high elevation, it was super windy and terribly cold – in fact it even snowed a bit and the entire salty lake froze over during the night. Fortunately we found a pretty good shelter from the wind beneath a leeward-facing cliff. There's me in our caveman kitchen, hiding from the wind.
Next, we headed to Laguna Lejia, another high remote lake accessed via a series of rough, high passes. Here's our HiLux truck amongst some penitentes at around the 15,000-foot mark.
One of the most interesting things about the Andes around the Atacama is the sheer number of volcanoes – they're lined up one after another as far as the eye can see. Laguna Lejia is situated in a particularly nice spot to view a number of these volcanoes, and I was stoked to catch a nice sunset and sunrise during our brief stay there.
This lake is at a lofty height of 4500m (almost 14,800 ft.) elevation, and was even colder and windier than the night before! Even worse, there was no shelter whatsoever, so we decided that our only choice was to sleep in the truck. Sleeping in a car is usually a sign of desperation, but this actually turned out quite nice – the truck was warmer than the tent and the fully reclined seats were surprisingly comfortable!
Though we had wanted to hike up Vulcan Lascar, it was simply too windy and cold to even think about attempting that!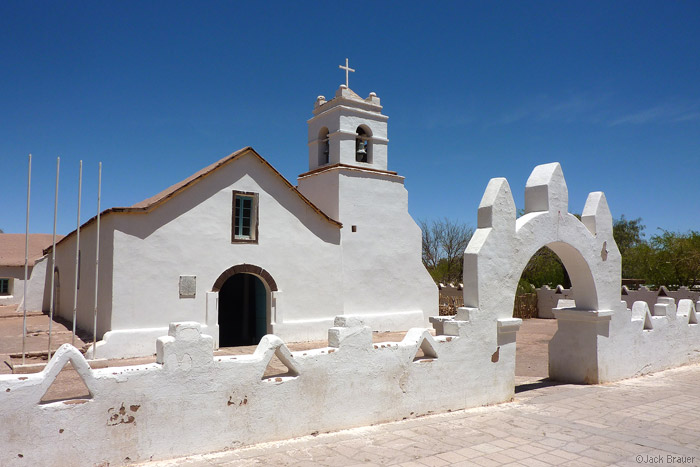 One night at Laguna Lejia was enough suffering for us, so we headed back down to the town of San Pedro de Atacama for a nice dinner and a real bed for a change.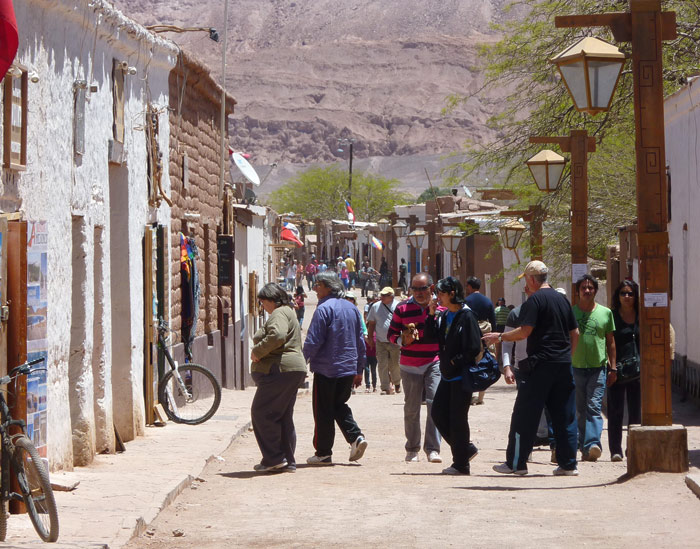 The adobe town of San Pedro de Atacama is super touristy, but easily seduced us with its lazy relaxed atmosphere and tasty food options. We ended up staying for a couple nights so that we could have more time to chill out and soak in the atmosphere of this cozy desert town.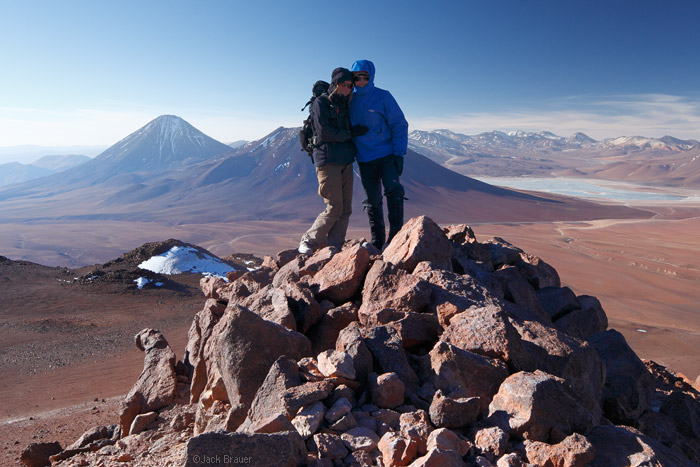 The next day, we heard a report that the wind was dying down. That was great news, since we were thinking that it was just always totally windy around here. So in the afternoon we spontaneously decided to go for a hike up Cerro Toco, which is regarded as a "novice" hike around here, even though it rises to 18,504 ft.! Well, it was actually a pretty easy hike, especially since we were able to drive up to 16,400 ft.!
Of course, being the nutjob photographer that I am, I had to stay up on the summit for sunset! Well, although I was getting a bit chilly by then, it was worth it. I made it back down to the truck by dusk, and we were back in town by dinnertime!
A short drive from San Pedro are the Termas de Puritama, a hot spring river set in a deep canyon in the middle of the driest desert in the world. There's a series of eight or so pools with clear hot water flowing through them all. A true oasis paradise! This was one of the most amazing and memorable hot springs I've ever visited, and we stayed there for hours until they finally kicked us out at closing time. Definite a highlight of the trip so far!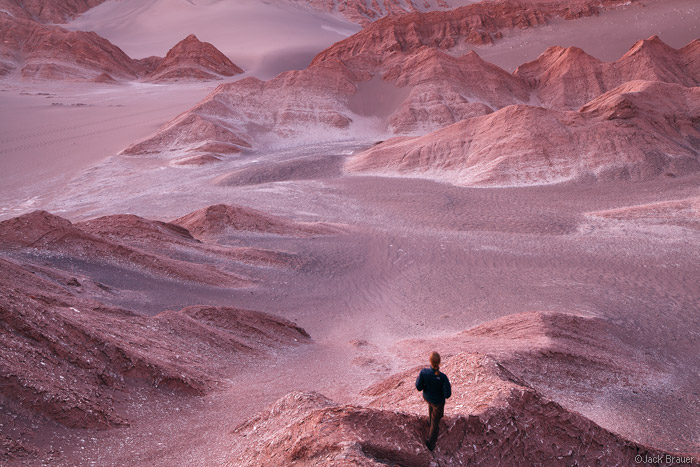 That evening we camped again in our favorite spot just outside of town – the Valle de la Muerte. A canyon winds its way through surreal eroded formations until you get to a martian landscape of sand dunes amongst more eerie salt-rock formations.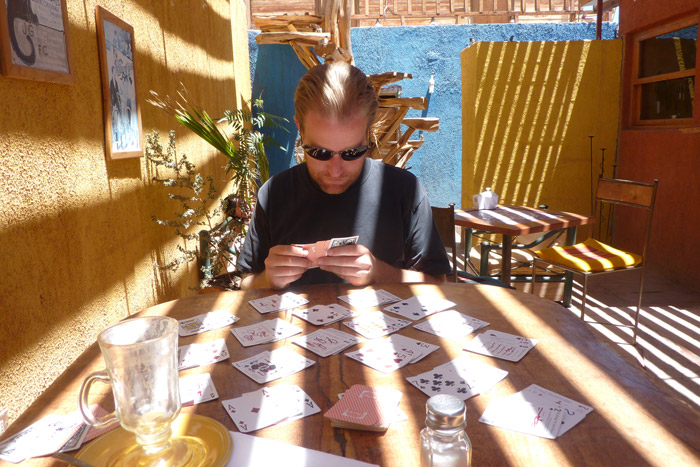 Why not hang out in San Pedro some more? Here I am playing our favorite game – Rummikub.
Our next stop: Laguna Chaxa, in Los Flamencos National Reserve, in the center of the Salar de Atacama, the huge salt flat south of town. Three species of flamingos live here year-round.
A self portrait of Claudia and I at Laguna Chaxa. We're tall people.
Oh my gosh, where did that beard come from?! Well, Claudia likes it, that's all that matters.
We stayed at Laguna Chaxa until sunset, scoring some unexpectedly fantastic sunset and dusk photos there. Another night camping at Valle de la Muerte, and now we're hanging out again in San Pedro de Atacama, where I'm typing this from. Soon we'll get back in the truck and head north to the town of Pica, which has dunes, natural pools, and more wine! Stay tuned!