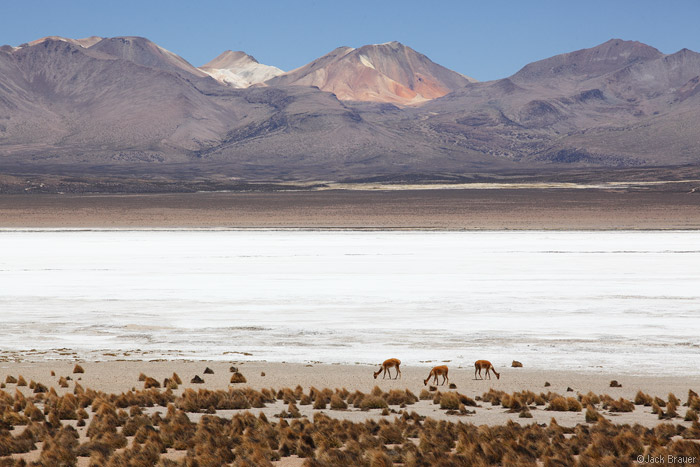 Stocked up with spare tanks of gas and plenty of water, we headed south from Lauca National Park through Las Vicuñas National Reserve, which gets its name from the many herds of wild vicuñas that roam the desolate landscape. Vicuñas are related to guanacos, llamas, and alpacas, though they are smaller and much cuter!
The scenery along the bumpy dirt road through Las Vicuñas National Reserve is constantly exciting, with colorful mountains, steaming volcanoes, isolated sun-baked villages, oasis riverbeds, and the ever present herds of vicuñas everywhere you look.
We drove to the Salar de Surire, a large salt flat sitting in a broad basin surrounded by colorful but barren peaks. The first thing we did was to go straight to the Polloquere hot springs at the far end of the salar. This hot spring is a nearly scalding hot sulfur-smelling turquoise lake, which we enjoyed for as long as we could bear!
Intense dusk colors in the sky over Salar de Surire.
Salar de Surire is a wildlife photographer's paradise, with large herds of vicuñas and huge flocks of flamingos. One thing I realized for sure, however, is that I am not much of a wildlife photographer! First of all, I need a longer lens – 200mm just doesn't cut it! Secondly, I think I'm too lazy to properly stalk the animals, and I usually just end up scaring them away and then feeling bad about that.
Flamingos are especially difficult to photograph, as they are very wary of humans and must have good eyesight because they fly away when you even begin to approach them hundreds of meters away. I quickly gave up trying that – until the next morning at sunrise when I found them standing with their legs frozen into the lake! Since they were trapped in the ice I finally had a chance to get within suitable photo range from the side of the lake. They must have still been sleepy – or resigned to their predicament – because they didn't seem to mind my presence then. Once the sun rises higher and the air warms up enough, they are able to kick their legs out of the ice and continue on with their day.
Though the wildlife is surprisingly abundant in this desolate high altitude region, people are hard to find. We passed through a number of old villages along the way, including the village of Isluga which has a particularly photogenic 16th or 17th century iglesia. We stopped for a while to admire it and take some photos, but we didn't see a soul there. Desolate…