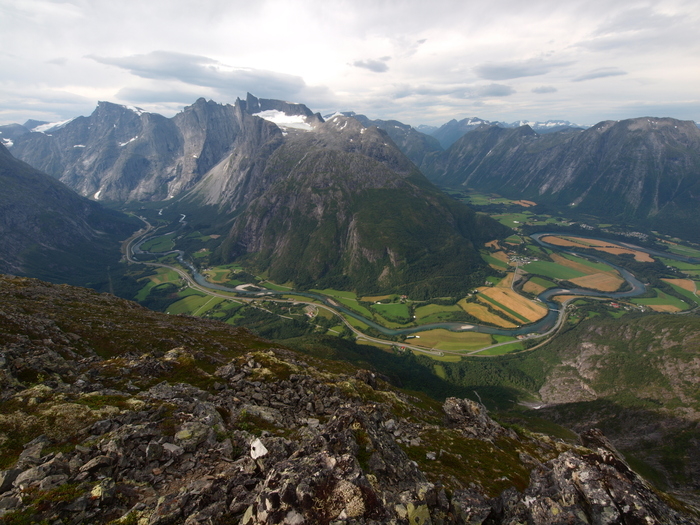 During the two days after leaving northern Norway, I drove 22 hours back down to central Norway. I detoured into Sweden for most of the drive, to take advantage of the flatter, straighter roads. I'm not sure if it saved much time, but I had no desire to retrace the curvy route back down through Norway! Driving south so fast was like time travel into the astronomical future, and for the first time since I've been in Norway I saw real nighttime, the moon, and stars!
Anyhow, I arrived at the town of Andalsnes and was happy to be back in the "real" fjord country again! The mountains around Andalsnes are insane. I camped at a great campground in the Romsdalen valley, directly under the Trollveggen, an 1800m (~5500 ft.) vertical wall, which holds the designation as Europe's tallest vertical rock face. It is impressive to say the least; as you're standing at the campground you literally have to bend your neck back to see the tops of the peaks. In the photo above (taken with my wideangle 7mm lens) the Romsdalen valley is at the upper left. The campground was really nice too, with secluded grassy areas surrounded by wild raspberry bushes, which I was happy to harvest for myself.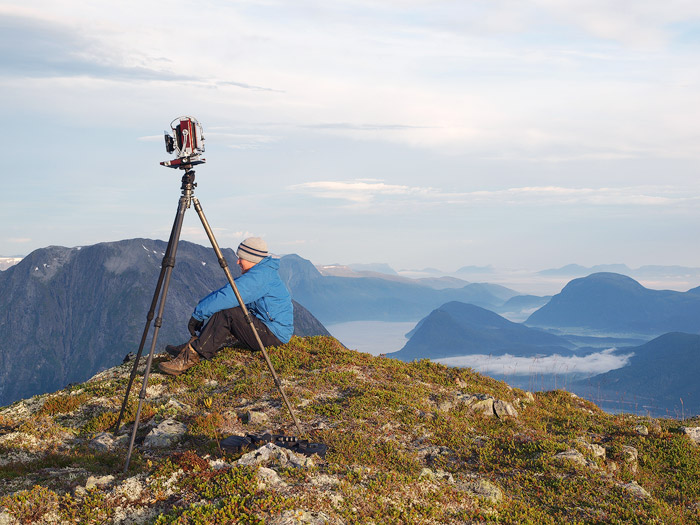 During my stay in Romsdal the weather was mostly unsettled, cloudy, and drizzly, and I scored pretty big with the photos, somehow managing to have perfect timing to grab some sweet shots during the few cloudbreaks. I did three hikes around there, and also found some great photo spots in the valley itself. The place is extremely photogenic!
I'm realizing that on this truly "photo-dedicated" trip, my moods seem to be tied up with the photography. When the conditions aren't good and the photography is slow, I get bored, lonely, and impatient. But when the light is right and I'm being productive, I am so entertained and satisfied! It's certainly its own breed of "vacation" when just about every move I make is with the photos in mind. But I digress…
I'm now back in Ålesund, and my next move will be to explore the Sunnmøre Alps, which I passed through briefly earlier on the trip, and which I was extremely impressed with then.