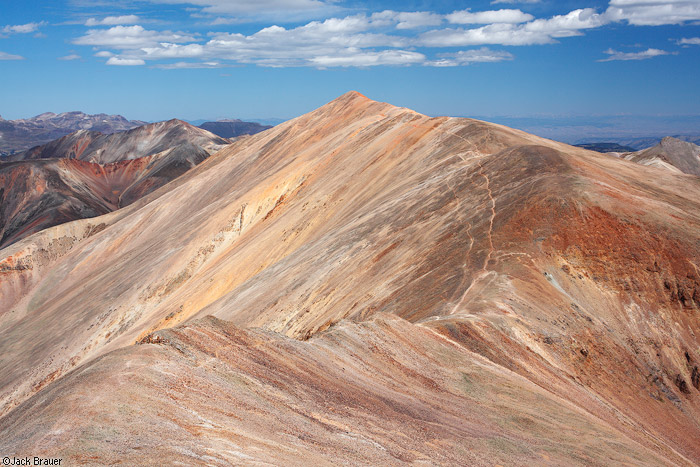 On Tuesday my buddy Chris and my friends' dog Lily and I hiked two fourteeners in the San Juans – Redcloud and Sunshine Peaks. Nothing too spectacular about these mountains, just a long stroll up two massive San Juan rock piles. One cool thing, actually, about Redcloud Peak is its colorful bands of red, orange, and yellow rocks. I spent quite a bit of time up there taking abstract photos of these colors; perhaps I'll post a small collection of these another time. But for now, here's a few photos from the hike. The one above is Redcloud Peak, as seen from its neighbor Sunshine.
More photos below!

[+] Click to view much larger!
Here's a 3-shot panorama from near the summit of Redcloud. I love how the Jupiter-esque side of Redcloud slopes down on a perfectly smooth angle. The valley at left goes towards Cinnamon Pass and American Basin.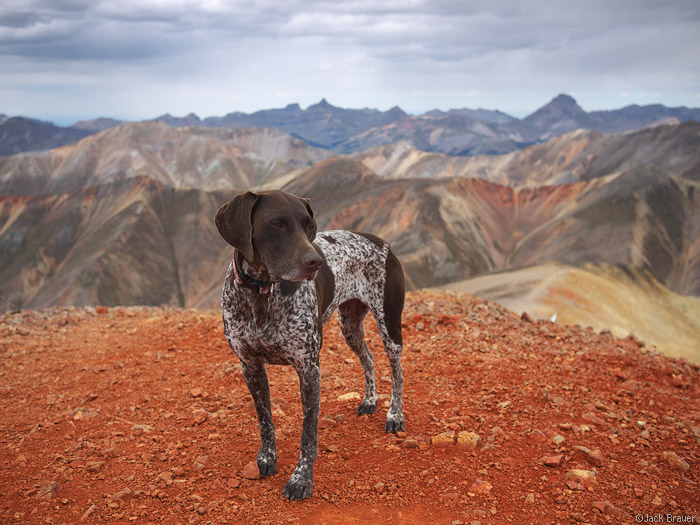 Lily poses for a photo at 14,037 feet.
Interesting shapes and colors in the mountains around there. In the distance is the pyramid shape of Wetterhorn Peak, another fourteener.