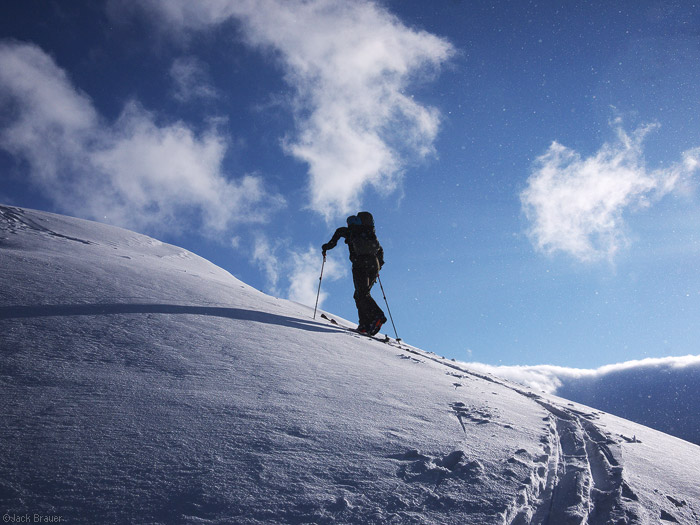 This morning I went out for a backcountry hike with my GJ ski buddy Ann Driggers, aka "The Annimal", who is visiting Jackson with some friends for the weekend. Since it hasn't really snowed much here in over three weeks, I had very low expectations for the snow quality today. Even so, I was still not enjoying the hike up the ridgeline on the crusty sun-baked old snow, with prospects of a terrible ride back down. The wind was cranking pretty hard out of the east, blowing the fresh 1 inch of snow over the ridgeline onto the western side of the mountain. With that in mind, we decided to drop in the unknown (to us) western face, to maybe get some semi-decent snow.

Much to our surprise and delight, the slope was smooth and powdery! The wind must have really worked its magic, blowing in maybe four or five inches of smooth firm powder. Not only that, but the line we dropped into turned out to be a great wide open 3,000 foot descent!

I was hooping and hollering like a little girl on the way down, so stoked to score such a sweet unexpected line. (That's me; photo by Ann).

Me again, enjoying the powder carves.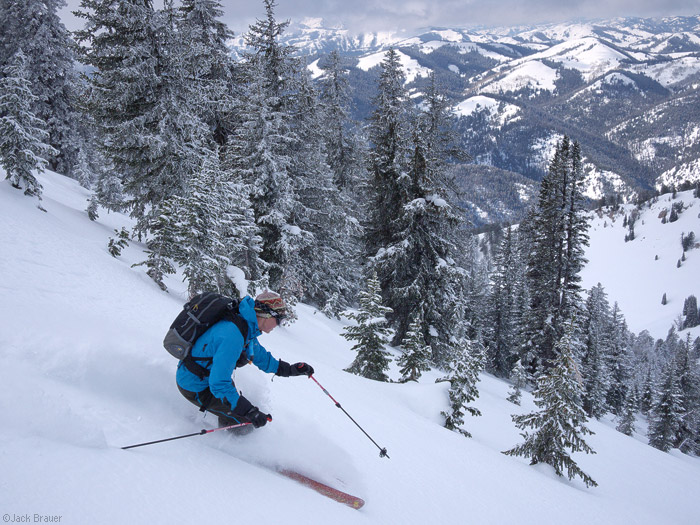 Ann, with the endless Snake River Range in the background.

Here I am going fast.

Ann and our powder turns. What's that? Preserve the powder? No way!
So, on a day that by any prediction should have been mediocre at best, we ended up scoring great snow and great descent. I tend to be such a powder snob that when it hasn't snowed in a while I usually just forget about riding and work at the computer for days on end. Today made me realize that perhaps I should work a little less, and ride a bit more, regardless of my weather predictions!
Check out Ann's blog for more photos and a better write-up.