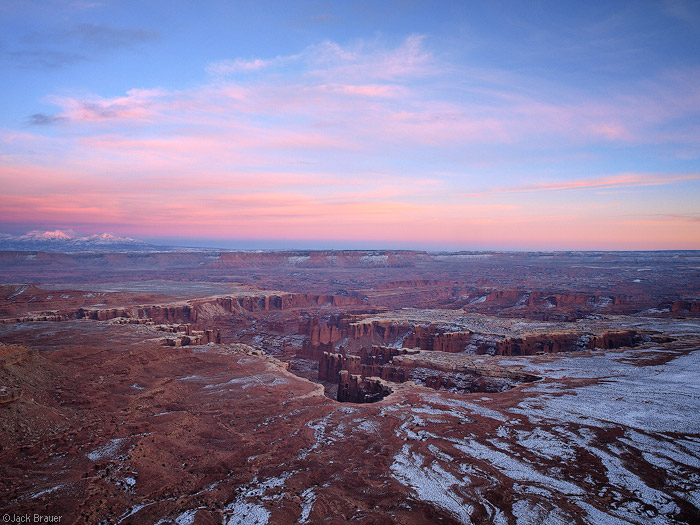 [+] On my way home today from Midway, Utah (near Park City), I made a detour from Moab and drove up to the Island in the Sky, in Canyonlands National Park. There was still lots of snow on the ground, even two days after the Christmas dump, and the roads up there were sheets of ice! After a slippery drive to the Grandview Point overlook, I donned my down jacket and snowboard boots, and hiked a mile along the rim to take photos of the evening light and sunset.
More photos below.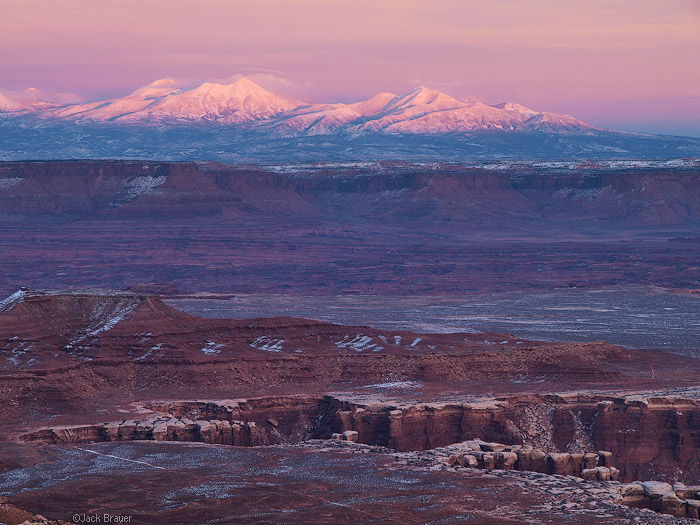 [+] Sunset alpenglow lights up the La Sal Mountains as they tower over the canyonlands.
[+] Dusk light illuminates Monument Basin and the White Rim, as seen from the rim of Island in the Sky. Though not visible from here, the Colorado River flows through the distant canyons.
I took some 4×5 shots of a variation of this scene, but it might be a while until I get those developed. I haven't shot my 4×5 camera in quite a while, and I must admit it felt great to use it again. The ability to use rear tilts gives you a three dimensional perspective that cannot be duplicated in an SLR camera (without a tilt/shift lens, that is). In fact, I took shots with both the 4×5 and SLR in similar positions, and eventually I hope to post a comparison to explain this concept further.