After our one-night backpack trip near Denali in mid-August, we faced a weather forecast of nothing but rain and dreary weather in Alaska for the foreseeable future. Frankly by this point on our trip I was getting pretty tired of this game of driving long distances and dodging rainy weather. So we drove to Anchorage, rented an apartment on Airbnb, and just hung out in the city for about five days. Up until that point we'd been camping for over two months and had slept in hotel rooms for only 3 nights! So it was a kind of vacation from our vacation, a time to simply relax and not think about hiking or camping or photos. The highlight of our stay in Anchorage must have been the Glacier Brewhouse; all throughout the Pacific Northwest and Canada on this trip I'd been enjoying fine craft beers, and this place might have had the best!
5 days of restaurants and breweries (and showers) in Anchorage had us all rested and fattened up for further adventures, so we hit the road again. Alaska still had rainy forecasts, so we finally abandoned all our Alaskan backpacking plans we'd hoped to do this summer, and headed east back towards the Yukon where the weather would hopefully be better. We drove the fantastically mountainous Glennallen Highway through Alaska, then the airy Top of the World Highway to Dawson, and finally made it to the destination we had in mind: Tombstone Territorial Park in the northern Yukon almost near the Arctic Circle. The only problem? A forecast of rain there too! We really wanted to backpack in the Tombstones in decent weather, so we figured we'd just kill some time and hang around there for about a week just camping out, doing day hikes, and generally just relaxing some more.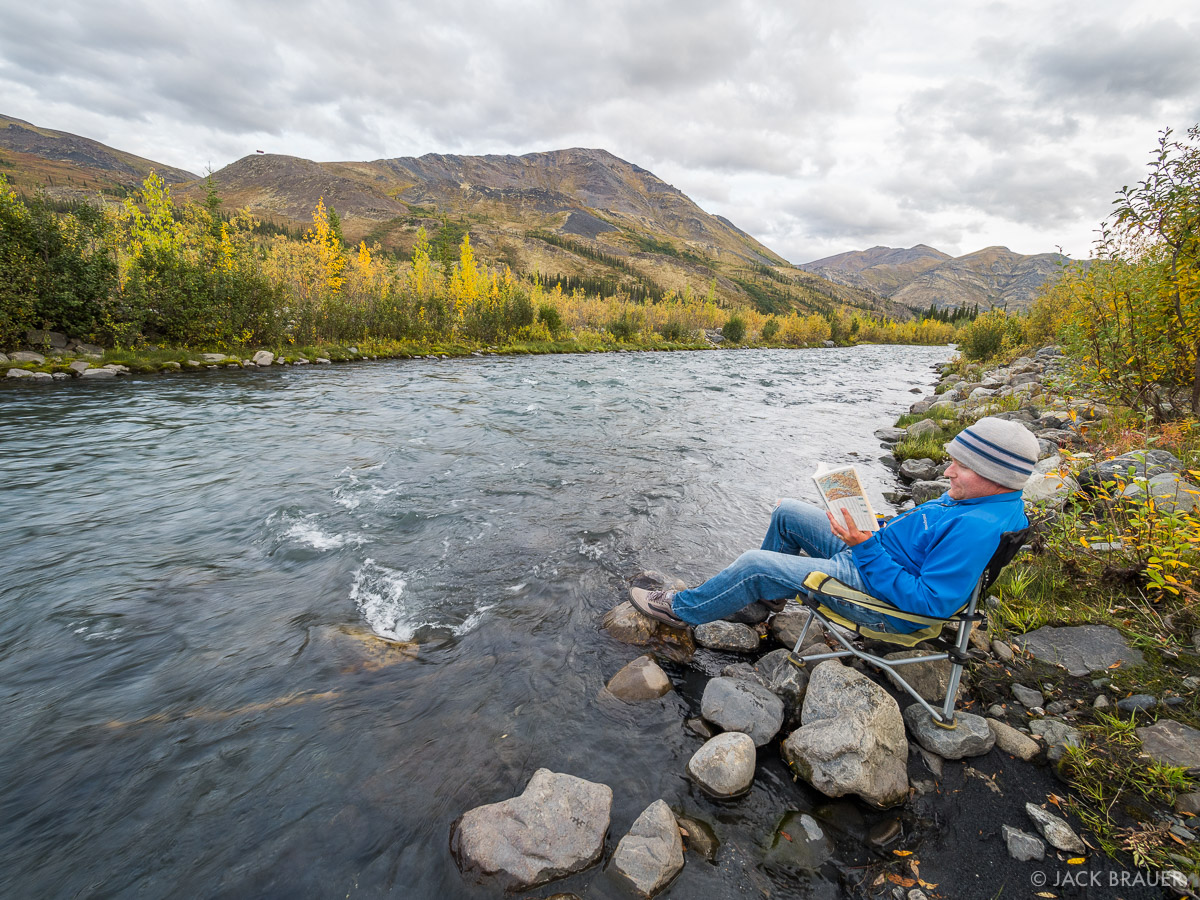 The official Tombstone campground was full but we found a great spot to basecamp for the week at an empty highway-maintainence lot along the Dempster Highway right next to the North Klondike River. Like most random camping we did this summer, the random unofficial spots almost always turn out to be better than any campground! It was also a fitting place to sip on Yukon Gold beer while reading John McPhee's Coming Into The Country, which is in large part about the region of Alaska we had just traveled through. It's all about people living off the land in the wilds of Alaska, and the changing social and political dynamics of the 1970's that spelled the demise of that way of life. I also enjoyed Jack London's Burning Daylight, a novel about a miner who struck it rich in the Klondike and founded Dawson City.
During one of the first days there we bushwhacked directly from our camp spot up one of the random big mountains above the highway. I think it's called Fold Mountain, and we made it to a high ridge with a nice view overlooking some creatively-named lakes called "Alpine Lakes".
On another day we were hanging out at the famous Tombstone Mountain Viewpoint (where I took the top photo above) along the Dempster Highway when a lady came over and told us she spotted a bear across the valley. We watched the grizzly for a while as it wandered around on the tundra hoovering up berries.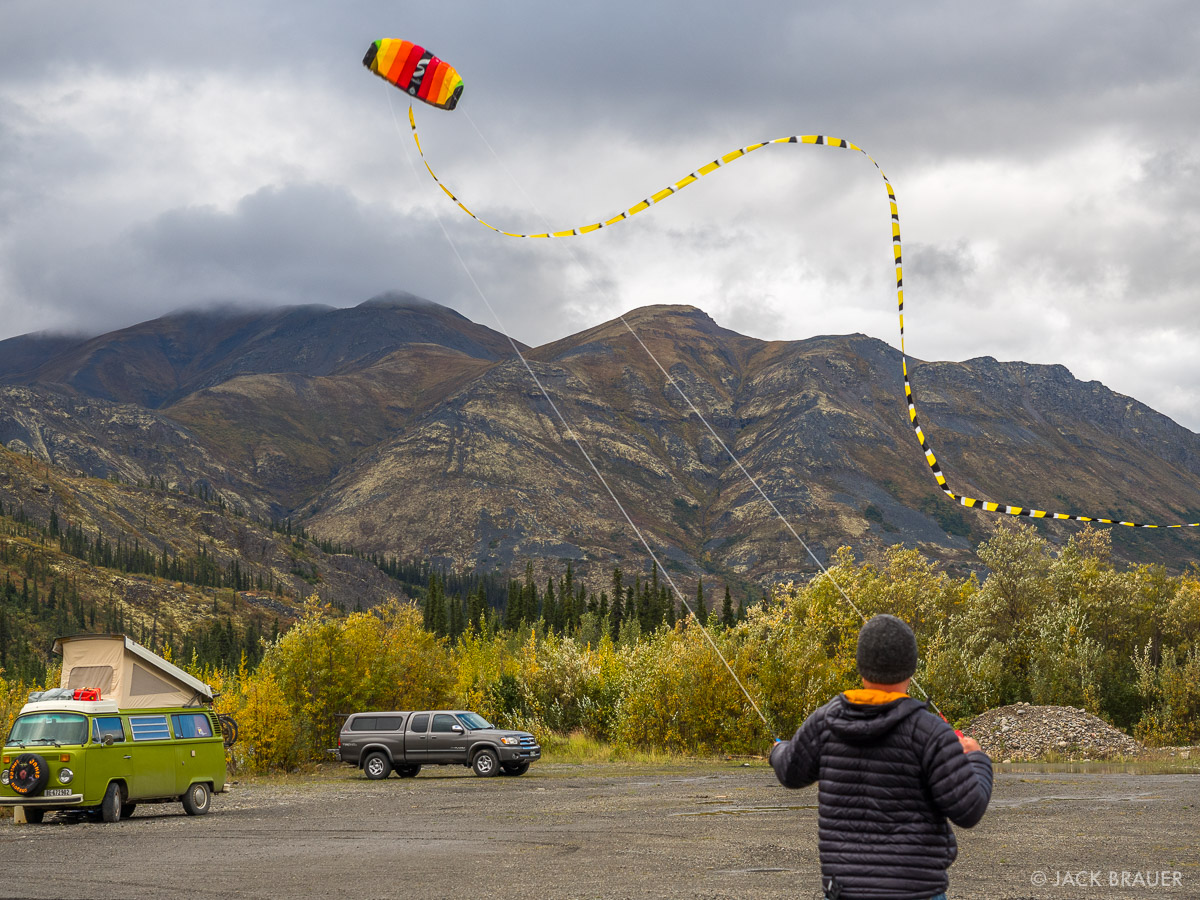 Between rain squalls when it was windy enough, I had a blast flying my kite around. When it's really windy I hook up a 100-foot streamer tail which makes it even more fun to fly — the tail tracks the path of the kite, tracing all its turns and loops through the sky. Our fellow parking lot campers there were from Switzerland and have been traveling the globe in that van for something like 2-3 years so far — all through Europe and Asia, now North America and eventually South America. I'm not sure if I've got the vagabond stamina to travel for that long; my limit is about 2-3 months, any longer than that and I usually start dreaming of getting back home to Colorado!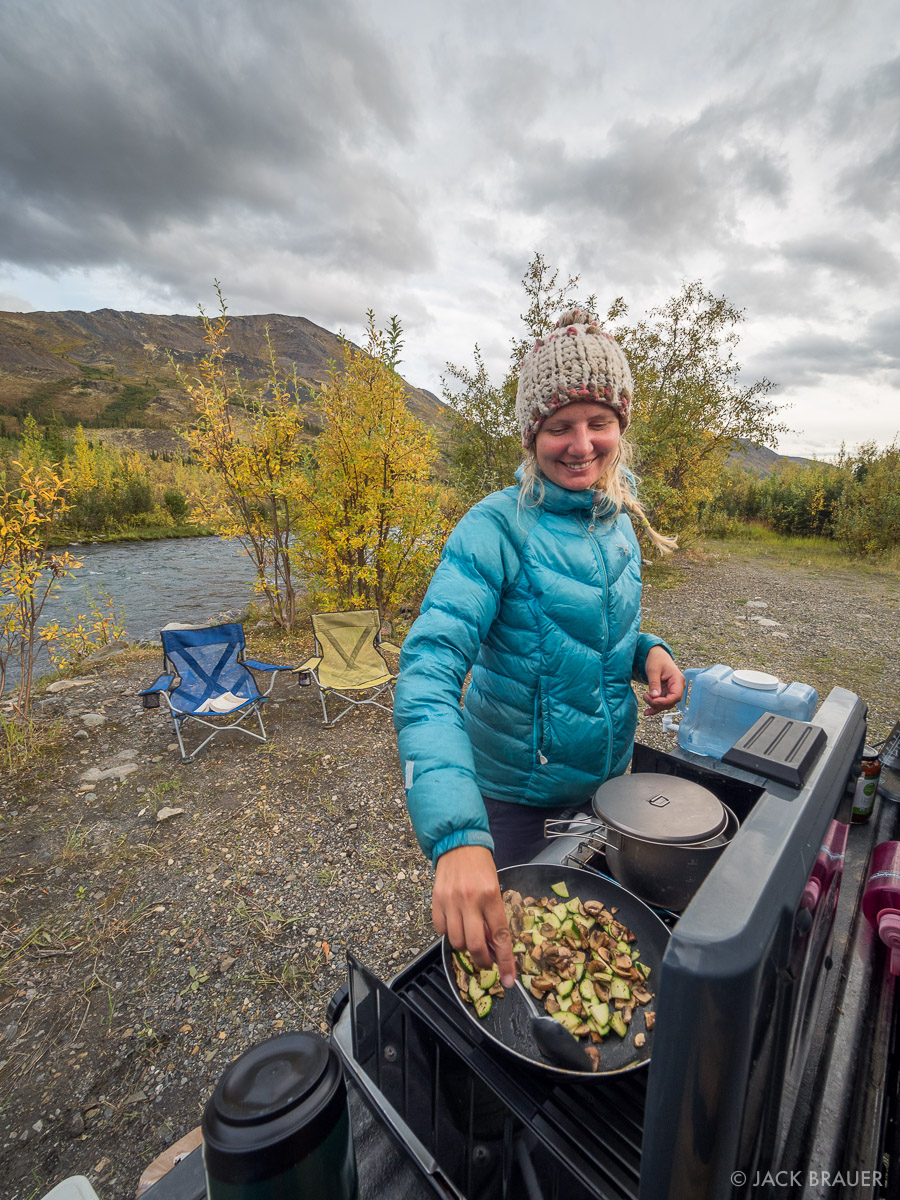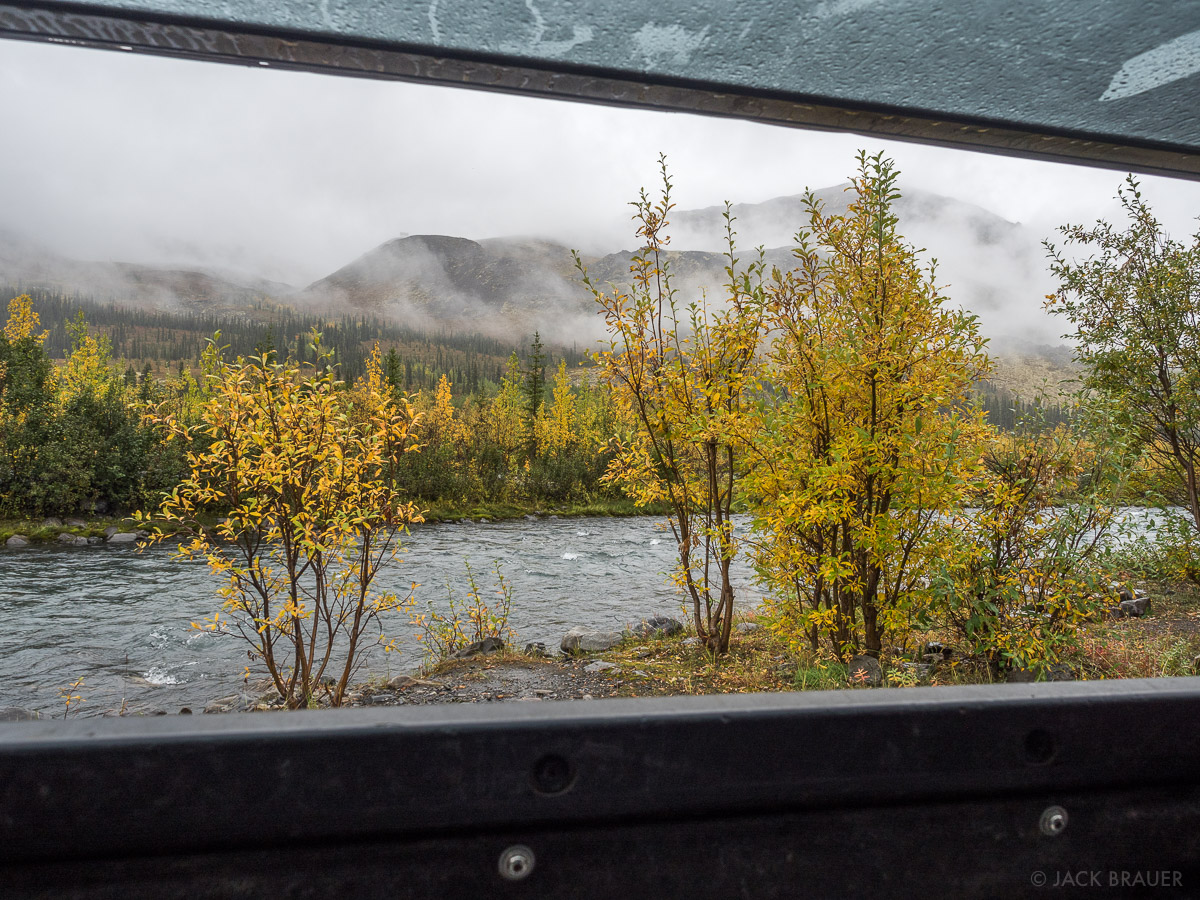 Though we kept ourselves relatively busy for the first half of the week, during the last few days of the week we spent much of the time sitting in the back of the truck watching it rain. And rain. And rain. I was a little jealous of the van with the pop top. These are the kind of days when there's nothing to do but sleep in as long as you possibly can, then read for as long as you can, try not to start drinking beer too early, hope the rain stops long enough to eventually cook dinner, and just basically vegetate until it gets dark and you go to bed again.
But, finally, the weather forecast showed signs of improvement and we scored permits for a 7-day trek in the Tombstone Mountains! That trip report is coming up next…