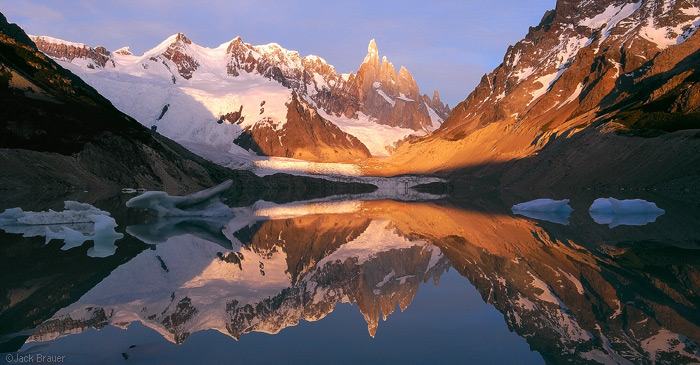 Here's one more Patagonia photo from the vault. I've been on a roll lately digging these ones up. These last three photos I've posted are digital shots from the Ricoh GX100 camera. When I returned home from my month in Patagonia in 2007, I mostly forgot about all these since I was concentrated on editing and scanning my 4×5 film collection from the trip. So it has been fun to browse through these and find some forgotten gems.
This photo here is the famous Cerro Torre reflected in the glacier-fed Lago Torre. I took this shortly after an earlier, wideangle shot of the same scene with the 4×5 camera. That morning was one of the luckiest photo shoots I've ever had – to have this lake so calm in this notoriously windy place is extremely rare!
To add to my stoke after the shoot, this was only the second morning of a week-long outing. I was prepared to wait numerous days camping near this lake to hopefully score some good light conditions, so having it happen so soon freed me to continue on my trek to other valleys and adventures.