Here's a photo of Ouray, as seen from our new favorite "wine and cheese" spot. "Wine and cheese" you ask? Yes, one of Claudia and I's favorite ways to unwind is to haul a bottle of wine and our plastic wine glasses up to a viewpoint and relax for the evening. Especially after a day stuck inside in front of the computer, fresh air and a fresh perspective works wonders to clear the head. Not to mention that wine is good for you, and so is hiking… a win-win situation!
Claudia and I have gone on wine hikes in Peru, Argentina, Chile, Germany, and Switzerland. Someday we will co-author a guidebook to the world's best wine and cheese spots. The only problem with that plan is that I know next to nothing about wine, and definitely nothing about writing about it! So maybe it will be a picture book instead, with scratch-and-sniff stickers. Lest you think I'm just joking around about all this, I officially own the domain name WineHiking.com. Yes, that was a spontaneous purchase, but hey… you never know!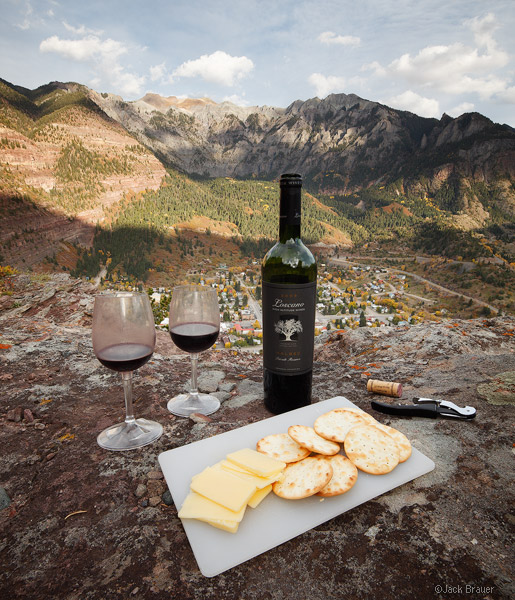 Here's my first attempt at the photos I'll need to be taking for our wine hiking encyclopedia. Here we have a tasty Malbec from Mendoza, along with some kind of Swiss cheese. It was good. I liked it a lot.
Yeah, I guess I need to work on my writing skills…