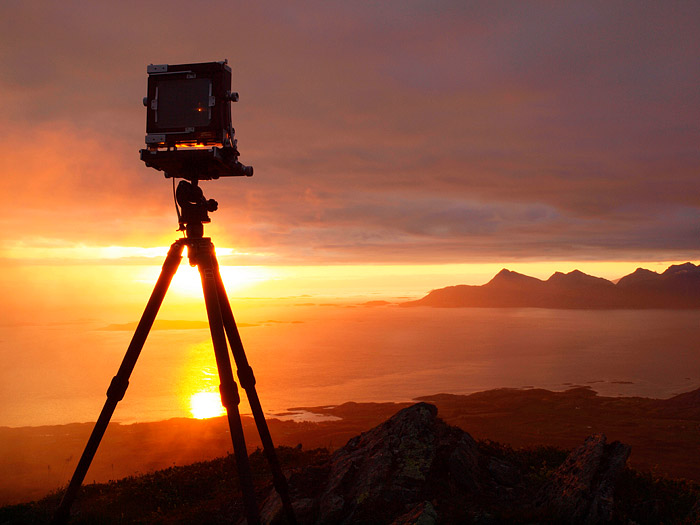 After leaving Ålesund, I ended up driving 13 hours straight, trying to cover some ground during the rain. The drive through this middle part of Norway was relatively boring – mostly rolling hills, forests, and farms. The next day I kept heading north, for several more hours until I crossed the Arctic Circle and finally make it to Bodø. I think I made a good choice to hightail it north; I escaped the rain!
The mountains around Bodø are awesome – sheer granite peaks rising up right out of the ocean. They aren't as huge as the fjord mountains further south, but they are more abrupt and perhaps even more dramatic. I spent most of the day driving around the coast in the mountains north of the city, and in the evening I hiked up a small peak for sunset. Though the weather was overcast all day, there was a gap of clear sky on the horizon over the ocean, so I had hopes for a great sunset. Just as the sun was starting to dip below the clouds at about 11:30pm, misty clouds started forming in the valley below me and blowing over the ridge I was on. I was worried that the sunset would be obscured by the clouds, but as they blew by the sun illuminated the whole vista with a radiant orange glow! This lasted for quite a while, since the sunset lasts so long up here, and needless to say I burned through many sheets of film. I haven't had such a fun photo shoot in a long time! It felt great to have some fun actually shooting photos instead of driving for a change.
Up here so far north, the sun moves so slowly in the sky that I actually have time to take numerous different compositions during the sweet light, something that's usually nearly impossible to do with the 4×5 large format camera since it takes so long to set up and focus. It's so fun. Then at midnight after the sunset, the bright orange dusk light lasts until morning – it never gets dark. I think after a week or so my schedule will involve sleeping during the day, and staying up all "night" hiking around and taking photos.
As I write this my car is waiting in line for the 4 hour ferry ride to the Lofoten Islands, the main destination for my trip!