"On November 3, 2007, Andrew Skurka became the first person to complete the 6,875-mile Great Western Loop, an ambitious journey that links the American West's great long-distance hiking trails to traverse 12 National Parks and over 75 wilderness areas. Skurka, 26, completed his expedition by walking an average of 33 miles per day for 208 straight days, covering a distance equivalent to 262 marathons or twice the distance between Boston and San Francisco."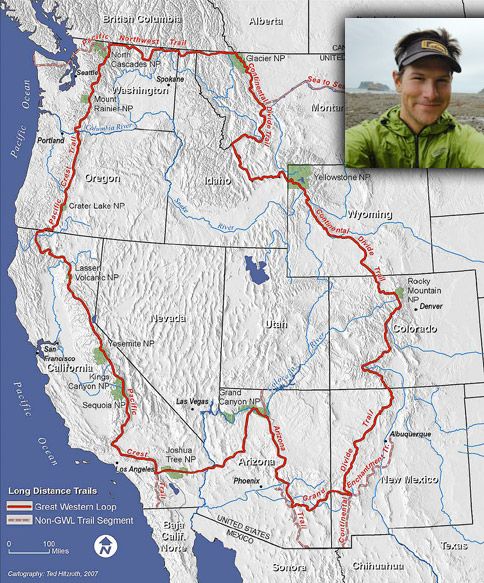 This trek blows my mind. 33 miles a day. 208 days! Just the planning for this trip alone would be a monumental project, not to mention actually DOING it!

Andrew would be appalled if he saw me and my enormous backpack with 20 pounds of camera gear. I take a slow pace and enjoy relaxing and spending more time in each place I go, but I still dream about what it would be like to thru-hike a long trail. How would it feel to hike through the desert for weeks on end and then ascend up into the lush mountains? To experience first hand the great range of landscapes and climate on a continental scale?

Andrew's excellent and extensive trip reports from his Great Western Loop adventure shed some light on the experience.