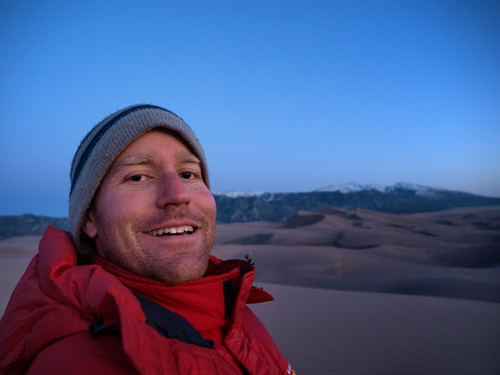 After three completely sedentary weeks at the computer, this last weekend I was desperate for some wilderness action, so I headed out on a backpacking trip in the Great Sand Dunes. My initial plan was to do a simple three day hike up and back the Sand Ramp Trail along the eastern side of the dunes. But on the first night I was feeling ambitious and decided to hike all the way around the dunes! Read more about the trip below, and be sure to check out my gallery of photos from the trip.
I started at the Point of No Return, and basically did a counter-clockwise loop around and through the dunes, camping one night on the hills above the dunes, and two nights in the dunes themselves. On day 2 I took a big gamble, hoping that Sand Creek would be flowing, at the north end of the dunes. Fortunately it was, and stocked up on water there, which I would have to haul for the rest of the trip through the dunes.
I had all my winter camping gear with me, including my -30º synthetic sleeping bag, down jacket, balaclava, winter gloves, long underwear, and down booties, which were great for hanging around in the dunes at night. An MSR dromedary bag was great for hauling the water, as a busted plastic jug would have been disastrous. The cold nights were no problem since I was all bundled up, and the days were perfect weather for crossing the dunes – sunny with a brisk chill to the air.
My last night there was incredible – a perfectly calm night with the stars blazing and my mind all wrapped up in the strange dunes magic. I almost expected a UFO to come down and pluck me out of there.