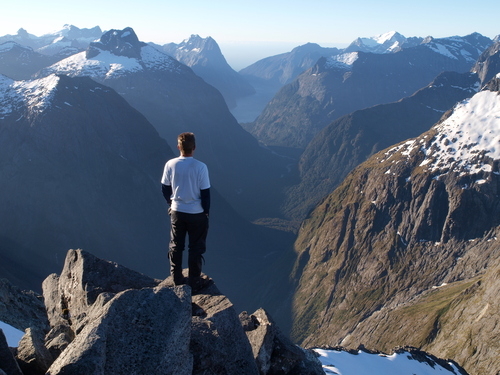 Just got back to Te Anau after 3 days in the high mountains of Fiordland. I climbed up a fairly large peak directly up valley from Milford Sound, and spent over 12 hours up top soaking in the incredible view. I watched the sunset from up there, then because the snow was still wet from the afternoon heat, I was worried about downclimbing the large, steep, and exposed snowfield. So I waited until 1:00am when the snow was more frozen to descend. It was no problem though, because the weather was calm and I had fun taking long exposures of the southern stars and constellations.

On the way down, though, I had troubles keeping to the faint trail with only the light from my headlamp, and it actually took me longer to get back to the hut in the valley than it did to climb up! At one point down in the flat valley I got mixed up and literally hiked in a circle, and started to hike back up the valley! D'oh! After figuring out that mistake (and cursing) I got back on track and was almost to the hut when I stepped in what I thought was an ankle-deep puddle (The water was perfectly clear and invisible in the darkness). Thinking it was a puddle, I jumped forward straight up to my waist into a pond! D'oh! Made it back to the hut at 4am, just in time to go to sleep before the sun rose. Good times.
Tomorrow I'm off again to hike the Milford Track, the most famous of New Zealand's "Great Walks". It's a 3 night, 3 day tramp through two massive Fiordland valleys, over one high pass, ending in Milford Sound.
By the way, these mountains here in Fiordland are amazing and probably my favorite that I've seen here in New Zealand. The mountains are impossibly steep, with vast sheer glacially-carved rock cirques. Very unique and majestic.