As winter drags on, there are times when no matter how good the snow is, all I can think about is getting out to the desert for some warm weather backpacking. Such was the case last week when Claudia and I drove over to Utah for four days of backpacking in the Needles District of Canyonlands National Park south of Moab. And what a refreshing trip it was, with exciting weather and some fantastic light to photograph.
The trip also provided ample opportunity for me to test out my new Sony A7R 36mp camera matched up with my favorite Canon lenses. Since this is a popular new camera, and my first new professional camera in over four years, I'll write a brief mini-review at the end of this post.
See LOTS more photos below!
We hiked into the famous Chesler Park under cloudy skies and even had a few light rain showers pass over in the afternoon. But when the setting sun dropped though a small gap on the western horizon a spectacular sunset erupted, bathing the sandstone towers in golden light.
This was one of those fantastic sunset scenes where every direction I looked was jaw-droppingly beautiful; I was wishing I had 3 or 4 clones of myself to be able to shoot photos all over the place at the same time! Or perhaps a machine to slow down time would have worked too…
There are five designated campsites in Chesler Park, which is a circular sage-filled plateau ringed by sandstone towers. This time we were able to camp in CP1 which is located in a more secluded spot between two big sandstone rocks.
Behind the CP1 campsite is a big notch in the sandstone walls where we could look out over Elephant Canyon, our destination for the next two nights.
The next morning brought clear skies and the perfect 65º t-shirt weather that we were longing for. After a lazy morning we left our tent and day hiked all the way around Chesler Park, returning via the always-entertaining Joint Trail which passes through some crazy tight slots. We then packed up the tent and headed over to Elephant Canyon.
Although the Elephant Canyon campsites aren't quite as impressive as those in Chesler Park, they are located in perhaps the most scenic canyon in the entire Needles District; plus there was a small pool of water right below our camp which was very convenient. With plenty of time to kill we explored around and found a sneaky scrambling route that accessed a broad sandstone bench above our EC3 campsite.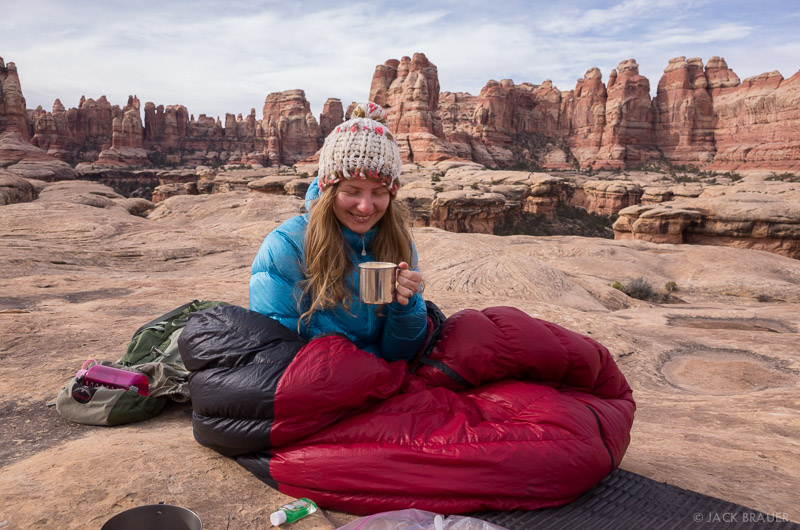 We woke up early in the morning to return to that high bench for sunrise, followed by another long lazy morning of lounging around and soaking in the scenery. Later in the day we hiked up Elephant Canyon, which just gets more and more impressive the farther up you go, with the massive Druid Arch as the grand finale. Despite the gloomy weather, which had turned a bit breezy and chilly, we waited around all afternoon for sunset. And again, to our delight, we were treated to yet another spectacular sunset show!
Needless to say, I was quite pleased to see such colorful clouds behind Druid Arch!
We made our way the 2 miles back to our camp in the dark with our headlamps, cooked dinner, and settled into the tent for the night. Then it rained most of the night, which always seems a bit surreal in the desert.
In the morning the rain stopped just before sunrise, just in time for me to head back up to our sandstone bench, which was now a water world with hundreds of potholes filled with water and little streams flowing from one hole to the next. And Elephant Canyon, which the previous day was dry except for a few small pools, had now transformed into a real creek that filled the desert canyon with the sounds of rushing water.
Being the sucker for reflection photos that I am, I was giddy to have so many water-filled pothole "mirrors" to play around with. For these photos the camera was sitting directly on the sandstone, with the lens propped up on a small rock.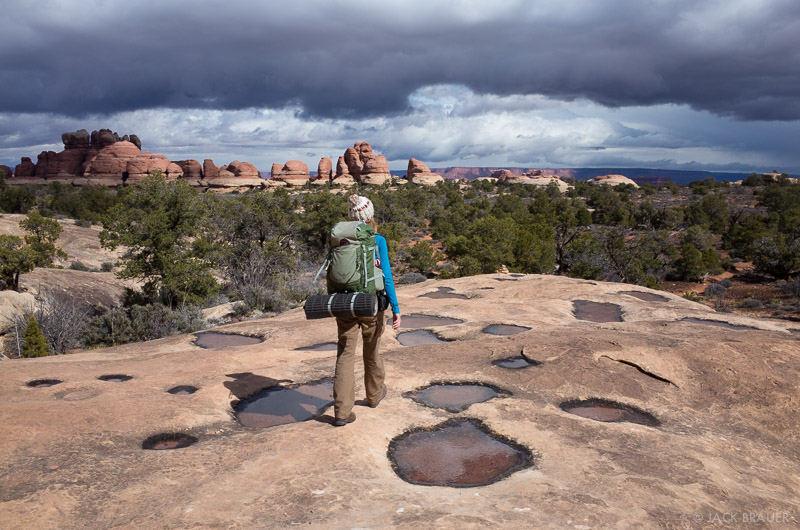 We hiked out that day under threatening dark skies, kind of sad to leave the desert after such a great trip. But I also knew that all those clouds and rain that had been passing over us the last few days were headed straight towards the San Juans, and that after our desert hiatus we would be greeted by a winter wonderland back home!
Sony A7R Quick Review
As promised, here are a few thoughts I have about the new Sony A7R 36 megapixel camera matched up with my favorite Canon tilt/shift lenses. By no means a thorough review, these are just my personal thoughts and initial impressions of the camera after a week in the field.
The Sony A7R, with its AA-filter-less 36mp sensor, provides a noticeable increase in resolution over my previous camera, the 21mp Canon 5DII. I can honestly say that the resolution I'm seeing directly rivals and perhaps even surpasses the resolution of my large format 4×5 drum scans! 60″ wide prints will be possible.
However, the caveat is that in order to utilize the full potential of the 36mp sensor, you absolutely need to use razor sharp lenses, and probably stopped down more than you might prefer. The high resolution sensor clearly displays the limits of every lens, and even the sharpest lenses will need to be used carefully to get everything in focus. With my lenses I've found that apertures of around f/8 or smaller are often needed, or else the corners are going to be soft. I think many landscape photographers shooting the A7R are going to find that if they want to get tack sharp photos from corner to corner, near to far, they are either going to have to use tilt/shift lenses or they'll have to do multiple exposure focus stack blending. If you're shooting a normal lens at around f/8 or so, you're simply not going to get near-to-far sharpness in a scene with any kind of foreground; and if you stop down too much, you're going to see the degrading effect of diffraction. Focus blending could be a solution, but in my opinion it is an inherently flawed technique, not to mention an unpractical pain in the ass for most field work. This leaves tilt/shift lenses as the best option for maximizing the potential of the A7R sensor.
It's also worth mentioning that the A7R sensor offers excellent dynamic range, and you can really pull the shadows out without any unwanted artifacts. As a test I took a deliberately underexposed shot and when I pushed the RAW exposure by 3 stops in Lightroom, the image still looks perfect. I can push it a full 5 stops and see a bit of grain but nothing like the ugly color banding that the Canon would show in such a situation. Impressive stuff.
Coming from the Canon, I've found the Sony to be a pleasure to work with and a comfortable transition. The tilting LCD screen is a joy, especially since I'm always doing manual focussing with live view. No more bending down to see the LCD; I can just tilt it out and stand straight. I do miss an optical viewfinder from time to time; the EVF (electronic viewfinder) is quite good but not as useful as an optical one, particularly in very low-light situations or if you want to hone in on a composition with the camera turned off. I pretty much only use the EVF in bright conditions when it's difficult to see the LCD.
Live view focussing works great, even a bit better than the Canon which already did a great job. The magnified focus is very sharp and can move around the frame quicker than the Canon. You can also use focus peaking to makes things even easier.
I have seen that the camera tends to underexpose and it's not reliable to use the LCD image alone for judging exposure since the screen shows the images brighter than they really are. So I makes sure to use the live histogram along with "zebra" highlighting (set to 100+) of blown out areas to judge exposure. Basically I adjust the exposure compensation until the brightest highlights are almost blown out, and that generally gives me an accurate exposure.
There are a few quirky things about the camera; the main thing involving the playback magnification, which uses two separate odd buttons that aren't really intuitive. The live view focus magnification uses a different button as well. It would have made more sense to use two dedicated zoom-in zoom-out buttons for all instances of magnification. But this is all minor stuff since you get used to it eventually.
All in all, I really don't have much else to say about the Sony A7R, which is a good thing. I'm pleased with the interface and how the camera works (which is not something I say for every camera I use!) and the image files are very impressive, not only in resolution but also dynamic range and color characteristics. If and when Canon ever comes out with their version of a higher megapixel camera body, it better be damn good because Sony has set the bar pretty high.