A few weeks ago I fulfilled one of my dreams – to trek around the remote and rugged Cordillera Huayhuash mountain range in Peru. In the city of Huaraz, the base for most of the expeditions in the Cordillera Blanca and Huayhuash, I signed on to a 10 day trek with burros to carry all our camping gear, an arriero (burro driver), a guide, and a cook for all our meals! Deluxe! Not only that, but our random assortment of people turned out to be a good group and we all had a great time together. Below are a bunch of snapshots from the trek, in chronological order.
You can also see my gallery of landscape photos from the Huayhuash here.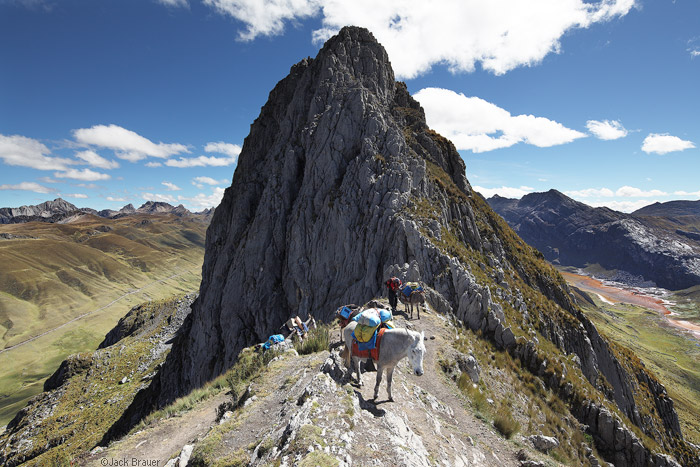 An arriero guides his burros over our first pass in the Cordillera Huayhash.
Our second camp, at Janca. Jirishanca towers behind.
Hiking a beautiful knife ridge with a spectacular view of Jirishanca.
Lots more photos below the fold… don't miss it!


Still on the ridge, looking at Jirishanca Chico.
A campesino family poses for a sunset portrait at Laguna Carhuacocha. This family has a tough life, but lives in one of the most spectacular places on the planet. I am going to mail this print back to Peru in hopes that I can have it delivered to them.
Morning at our camp at Laguna Carhuacocha.
The eye of Mordor?
Yours truly on a high pass below Yerupaja, the second tallest mountain in Peru at 6617m or 21,709 ft.
Trapecio mountain and some burros on holiday.
As if the trek wasn't awesome enough, about halfway through we camped next to some hot springs. Here's a long exposure of the hot springs pool with the stars above. Speaking of stars, they are incredible in the Cordillera Huayhuash, far from any major city lights. Also, for the first time I can ever remember, I could see both the Big Dipper and the Southern Cross at once.
Hauling our stuff.
Roger hikes past another glaciated peak.
Roger getting higher…
Team portait at the top of Punta Cuyoc, 5000m, 16,400 ft.
Our camp below Puscanturpa Norte.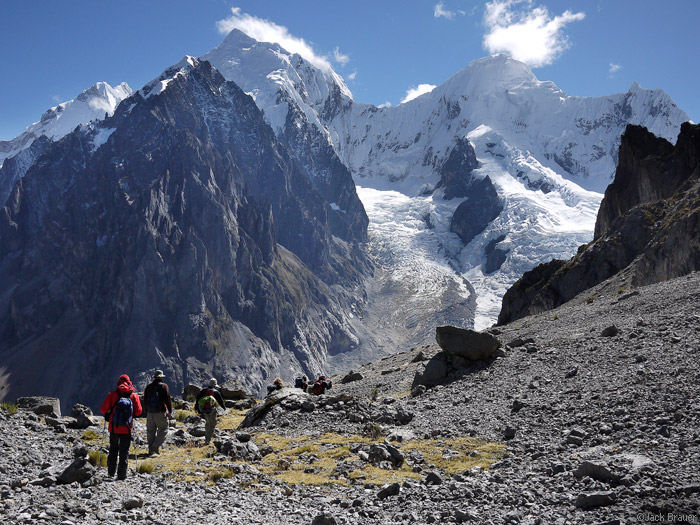 Over San Antonio pass, hiking towards Siula. Our group had decided unanimously the previous evening to spend an extra day on the trek so that we could explore the Siula valley, the scene of Joe Simpson's epic adventure as documented in the book and film Touching the Void.
Laguna Jurau.
Open air breakfast!
We hiked into the remote village of Huayllapa to spend a night and restock supplies. With no road and no cars, this town was a pleasure to visit, and the local kids were even more eager to see us gringos.
Caramelos!
Happy birthday, Felix! Let's party!!!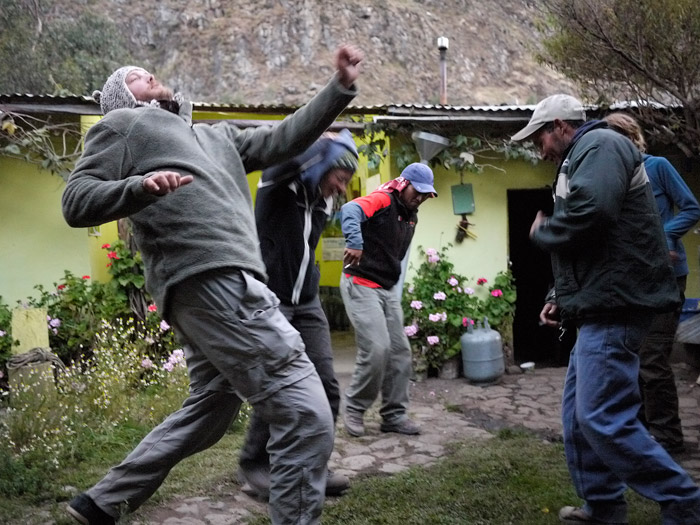 Shake it!
Claudia and Yerupaja.
Roger pauses to take in the view.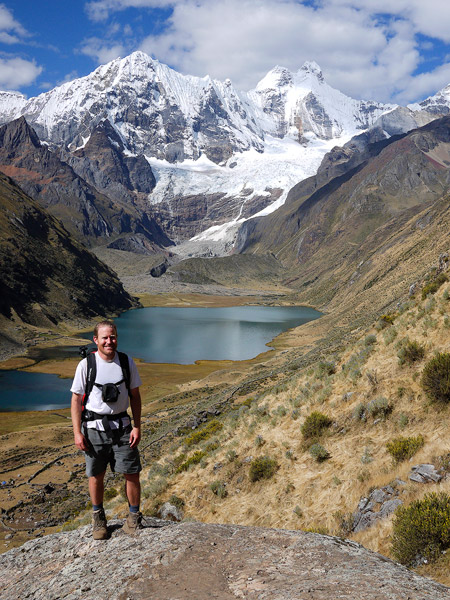 Looking forward to a swim in Laguna Jahuacocha.
Our last campsite of the trek, at Laguna Jahuacocha. Jirishanca towers above.
The whole crew! Top row, left to right: Susanne & Claudia (Germany), Erik (guide), Erik (USA), Felix (cook), Roger (Canada), Catalino (arriero), Josephine (Canada). Bottom row: Hanan (Israel), Jack (USA).
After a 6,000 foot descent into the valley, we got to the village of LLamac. Here's a sweet looking little estate on the outskirts of town.
Every travel journal needs the obligatory photo of a crusty door. Here it is. Enjoy.
>> NOW, SEE MY GALLERY OF LANDSCAPE PHOTOS FROM THE CORDILLERA HUAYHUASH HERE!!! <<