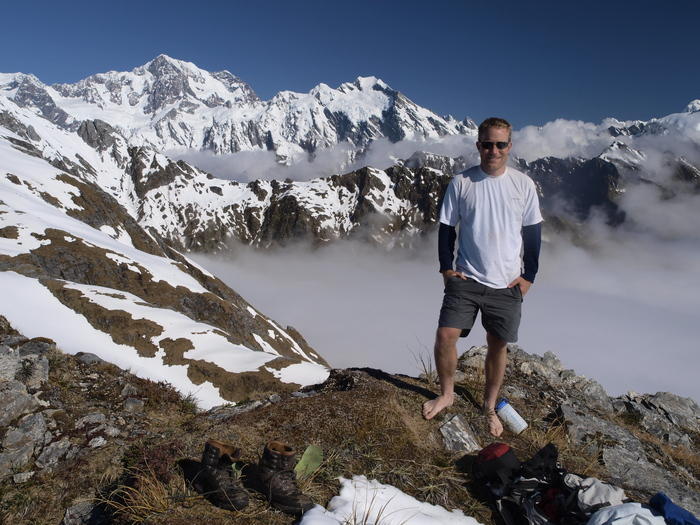 Yesterday I went on one of the most memorable backpacking trips of my life.  With a weather forecast clear of rain for all of New Zealand, I was excited to get up high and get some views of the Fox Glacier and the west side of Mt. Cook.  My plan was to hike a steep route trough the forest and camp on a high ridge above treeline.  I set off under clear skies and started the grueling route through the forest – so steep that some of it consisted of climbing up what can only be described as root ladders.
When I finally got high enough to see through the forest canopy, I was disappointed to see a completely overcast sky.  By the time I got to the ridge above treeline, it was completely socked in fog.  I was bummed, but I set up my tent anyways and ate some food.  After studying the map, I decided to do a long hike further up the ridgeline… what the hell, it may clear up later I thought.  Hiking out the ridge was challenging in the thick fog, but with careful map and compass work and a bit of intuition, I made my way out.  Several times when there were drop-offs I had no choice but to sit and wait for a bit of clearing in the fog to see where I needed to go next.  I kept going though, and as I hiked higher and higher, I noticed that the clouds were becoming brighter.  Sure enough, I eventually popped out above the cloud layer into bright sunshine and a glorious clear day, with huge views of the gleaming white peaks!  I was so stoked.

I got to a highpoint with a great view of the entire range as far as the eye could see, with Mt. Cook front and center. With sun and no wind, I spent four hours up there, relaxing and soaking in the view. I think I got some killer sunset pano shots of the range bathed in alpenglow with the cloud cover down below.
A strange thing happened right before sunset. I was looking at the view from a slightly different point, and all of the sudden I remembered a dream I had years ago – of the same scene! I know it sounds strange, but I had this dream once where I was by myself really high up on a rugged foreign mountain range (much more rugged than what I'm used to) and it was about sunset and I was taking photos, and it was all a bit scary with the snow and steep drop-offs around. The dream was not much more than that, and I soon forgot about it. But I swear at the moment last night seeing that same view triggered my memory of that dream, and I tell you it was the same scene! Trippy!
Anyhow, I made it back to my tent in the dim dusk light and then headlamp, and everything there was still all foggy and wet. This morning I packed up all my wet stuff and made my way carefully back down through the steep rainforest. Now I'm back in Fox Glacier town and am going to chill out, post this blog, watch a movie, and cook some dinner (along with a bottle of tasty New Zealand wine, of course!)