This last week we went on a 7-day backpacking trek through the Needle Mountains and Grenadier Range, the most rugged portions of the San Juan Mountains in southwest Colorado. Here are some snapshots from the trip. See my gallery of photos from the trip here.
The route we took passes through four rugged valleys and over three high passes. This is a strenuous wilderness route, seldom travelled, with slight unmarked trails for only about half the way. The rest of the way requires good map reading, terrain intuition, some bushwhacking, and lots of trial and error. This is the third time I've done a long high route in the Needle Mountains, and every time I get a bit lost at some point(s)!
Here I am with the camera.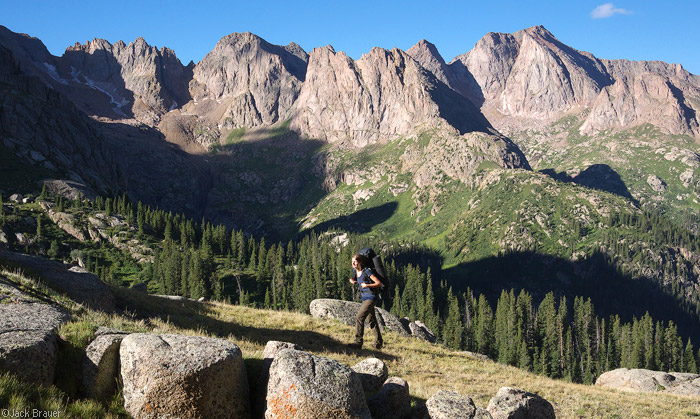 More off-trail hiking, with the ever-present dramatic backdrop.
Hiking by an unnamed alpine lake.
Here comes Claudia!
Never pass up an opportunity for some high alpine cliff jumping! Here I am dropping out of the sky.
Can you spot Claudia? Lots of scrambling through rock fields too..
Claudia stays warm as we watched and photographed the sunrise from the summit of Peak Three in the Grenadiers.